Fall 2022 Graduation: Ronald A. Moss Jr. Follows Passion With Game Design Certificate
Shaker Heights resident builds confidence, sets goals at Tri-C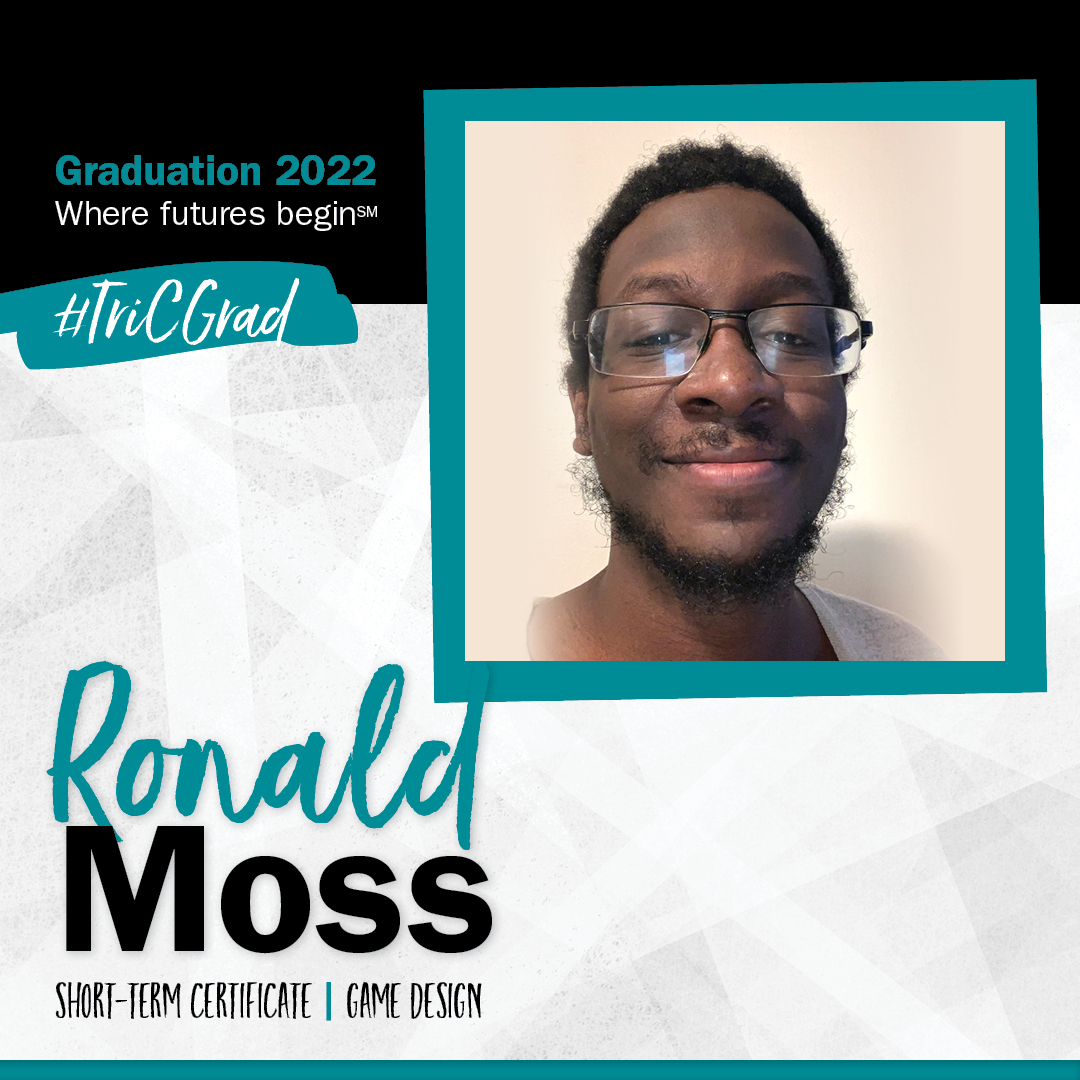 Before Ronald A. Moss Jr. came to Cuyahoga Community College (Tri-C®) in 2013, he was told he didn't belong in college.
Rejected from Cleveland State University, Moss sought out a community college experience and landed at Tri-C.
Then, after some soul-searching, he found his calling: video game design.
The Shaker Heights resident will graduate with a Game Design certificate during the College's Fall Commencement ceremony on Dec. 15 at the Wolstein Center.
Moss takes classes at Tri-C's Eastern Campus and works full time for the Shaker Heights City School District.
How would you describe your Tri-C experience?
Long (maybe longer than most) and challenging, but the greatest I've ever had.
Has it changed your life? In what way(s)?
It's shown me that life isn't as hard as we make it out to be. As long as I continue to give my best, I'll accomplish anything. Tri-C helped me build up my confidence a little more and conquer all of my fears in life. And the best part was that I learned I could make it on my own — and I'm better than I ever thought I was.
Do you have any pearls of wisdom to share with potential students considering a similar degree or certificate program?
The best way to live in this world is to follow your own heart and conscience. Never lose faith in yourself or in the people you truly care about. Never ever give up on your dreams — no matter where you come from, who you are or what your situation is, believe that you can make it. You will be put down by people, they'll hate you for who you are, and you'll be considered a freak for being different. Forget them. You'll be pushed around, but you've got to push back harder. Let whatever you're going through make you stronger than before. When you hear voices screaming negative vibes at you, scream back louder.
Tell us a little more about yourself.  
I like to write novels and short stories. I'm teaching myself how to illustrate with and without color, and I'm practicing gospel rap music to send out a positive message. I am currently working on a Christmas album.
The video games I love most are action and adventure, beat 'em up, hack-n-slash, shooter and RPG types. I plan to turn the story I'm working on right now, Action McQuade: The Mightiest Man on God's Earth, into an illustrated novel, short stories and an amazing game. 
Cuyahoga Community College will celebrate the academic achievements of its newest graduates during commencement on Dec. 15 at the Wolstein Center in Cleveland. Check our News and Events page leading up to the event for more highlights of the Class of 2022. 
December 12, 2022
By Noelle Bye, 216-987-4747 or noelle.bye@tri-c.edu