Fall 2022 Graduation: Nina Smith Whips Up Associate Degree in Culinary Arts
Amid many challenges, nontraditional student realizes dream of becoming a chef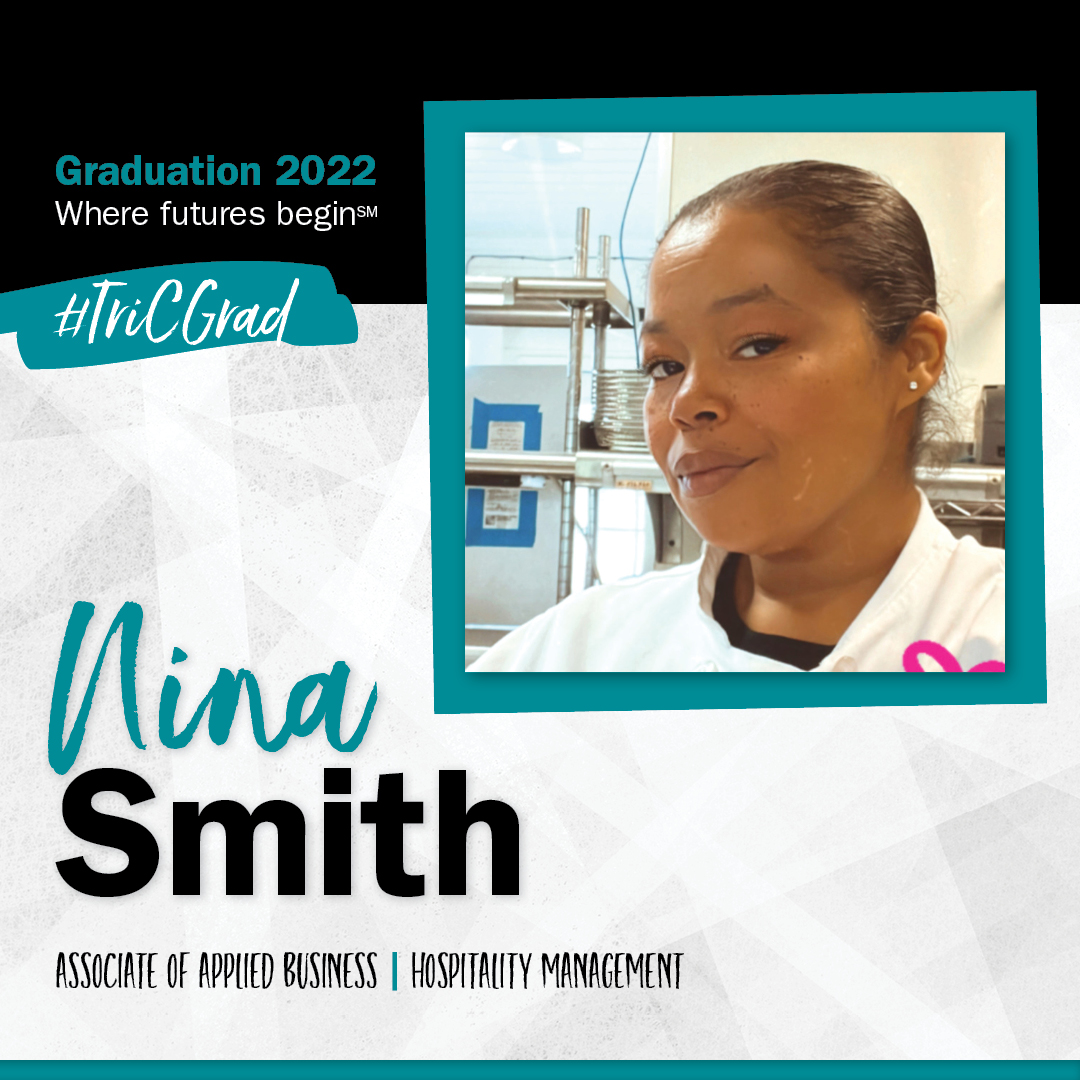 At 42, Cuyahoga Community College (Tri-C®) student Nina Smith proves it's never too late to turn up the heat and realize your dreams.
"This is my second act in life," Smith said. "I chose to follow my lifelong dream of becoming a chef after working in health care for a few years. Tri-C made my dream a reality."
Smith will graduate with an Associate of Applied Business in Hospitality Management with a concentration in Culinary Arts at the College's Fall Commencement ceremony on Dec. 15 at the Wolstein Center.
The Cleveland resident also holds certificates in Culinary Arts and Baking, as well as certifications through the National Restaurant Association and American Culinary Federation.
Beginning her latest educational journey in spring 2019, the single mother of four was on a knife edge, persevering through a divorce, postpartum depression and the pandemic.
"I survived math courses with no tutor, and I had two toddlers I had to put to bed before I could even think about doing homework," Smith said. "I've almost broken so many times, but I made it through." 
When did you begin attending Tri-C?
Initially in spring 2002, as a hard-headed 19-year-old with no direction. Tri-C's culinary program had a waiting list, and I couldn't go to the Pennsylvania Culinary Institute like I wanted to. I was just mad and took it out on my grades. When I returned in spring 2019, I was ready; but unfortunately, I had to pay for my bad decisions and pull my GPA out of the negative. 
How would you describe your Tri-C experience?
There are so many emotions when I think of everything I've been through during my time here. Chef Tom Capretta believed in me when I didn't. Chef Maureen Leonard was a shoulder for me to cry on. Chef Deanna Manners gave me confidence in the kitchen. And last, but certainly not least, Chef Ky-Wai Wong has been an anchor this final semester. 
Is there an aspect of Tri-C that stands out for you?
The sense of family. Everyone at the Hospitality Management Center really cares. 
Do you have any pearls of wisdom to share with potential students considering a similar degree or certificate program?
Work hard, and lean on your teachers and your peers. Have the "Mamba Mentality" about life, and be the anchor. Food feeds. 
Cuyahoga Community College will celebrate the academic achievements of its newest graduates during commencement Dec. 15 at the Wolstein Center in Cleveland. Check our News and Events page leading up to the event for more highlights from the Class of 2022.  
December 14, 2022
By Noelle Bye, 216-987-4747 or noelle.bye@tri-c.edu