Fall 2022 Graduation: Jessica Carey Overcomes Hurdles To Earn Sports and Exercise Science Degree
Amid pandemic challenges, Dayton-area student finds her passion at Tri-C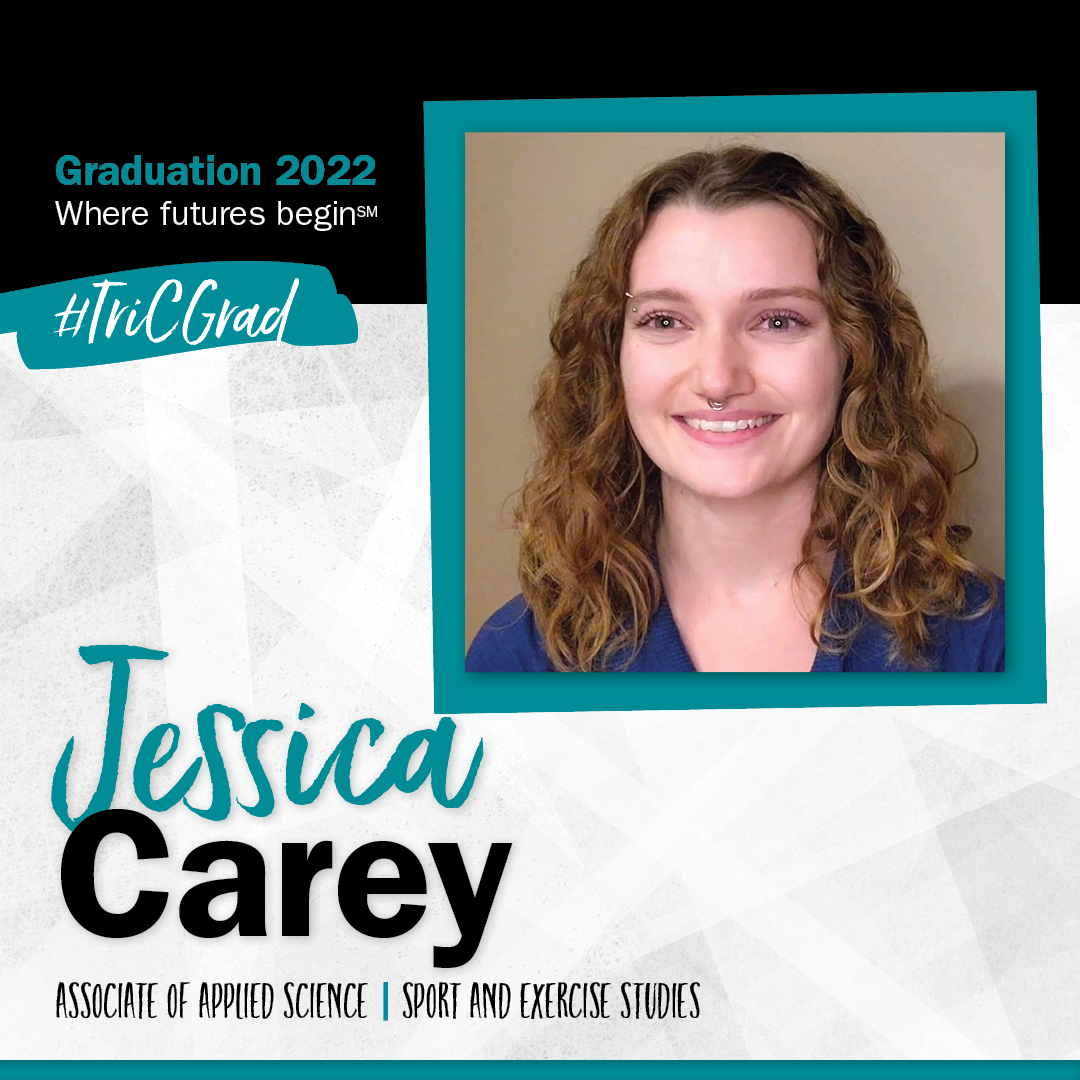 When she graduated high school and started working entry-level jobs, Jessica Carey realized she wasn't satisfied with her career path. 
She found that meditation, mindfulness and Buddhism opened her up to new possibilities. She pursued a 200-hour training course to become a yoga instructor — even though she'd never done yoga before. But Carey eventually became frustrated that different teachers contradicted each other. 
"I decided I wanted to learn enough about it to go to school and continue exploring to see where this path leads," said Carey. 
In search of a sports and exercise science program that was accredited by the National Board for Health and Wellness Coaching, Carey found Cuyahoga Community College (Tri-C®) and enrolled in the summer of 2021 as an online student. 
A resident of Englewood, near Dayton, Carey's first year of classes were online due to the pandemic. During her second year, she traveled across the state to attend in-person and meet the hands-on lab requirements, while working full-time at a residential treatment center for substance abuse and teaching yoga. 
She graduates with an Associate of Applied Science in Sports and Exercise Studies during the College's Fall Commencement ceremony on Dec. 15 at the Wolstein Center. 
How has your experience been at Tri-C?
"It's been a really good experience. I don't have much to compare it to, but I went to Sinclair Community College for a year and didn't connect with the school or any of the teachers. It could have been my age (I was a senior in high school at the time) or the fact I wasn't invested in it, but I just felt out of place. Even when I was only taking online classes, I felt more a part of Tri-C than I ever did at Sinclair." 
Is there something that stood out to you at Tri-C?
"How accommodating and inclusive Tri-C is. Now that I've been on campus a couple of times, I see how the College is trying to make everyone feel welcome and safe and get them involved." 
How has Tri-C changed your life? 
"It's changed the way I look at personal training. I won't deny I had a stereotyped view of personal trainers, thinking they only trained athletes, bodybuilders or people who were overweight. But I did my internship at Maple Tree Cancer Alliance, working with people with cancer — mostly older individuals — and personal training them. I realized there's a whole other side to it. 
What wisdom would you share with others considering a similar degree?
"If it interests you, go for it! And once you're in it, practice it! You can read a book and theories all day long, but you'll never truly know it until you do it and put it into practice." 
Cuyahoga Community College will celebrate the academic achievements of its newest graduates during commencement on December 15 at the Wolstein Center in Cleveland. Check our News and Events page leading up to the event for more highlights of the Class of 2022. 
December 13, 2022
By Anthony Moujaes, 216-987-3068 anthony.moujaes@tri-c.edu