Dressed for Success: Costumes Send Positive Messages for Online Class
Communications instructor Holly Gast livens up lectures with interesting outfits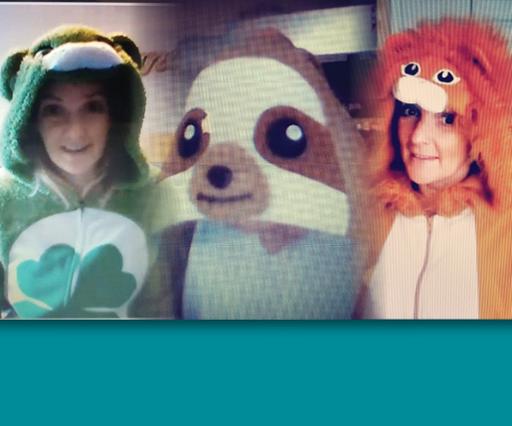 What to wear to class today? That seemingly simple question brings some interesting answers for Holly Gast, a communications lecturer at Cuyahoga Community College (Tri-C®).
Gast has dug deep into the Halloween section of her household closets to add extra fun to Fundamentals of Speech Communication lectures since the College shifted to online classes due to the COVID-19 outbreak.
Students logging in for their first virtual class found Gast dressed as Good Luck Bear, a fuzzy green Care Bear with a four-leaf clover on its chest.
"Everyone seems so stressed with what's going on, it seemed like a way to lighten the mood," said Gast, who is in her first year at Tri-C's Eastern Campus after teaching at several other Northeast Ohio institutions.
She ties the costume into a theme of the day. Good Luck Bear, for instance, was chosen to offer wishes for success with the new online format.
"Yes, it's corny," Gast said, "but it's a way to get a message across."
Week 2 brought a sloth costume and a reminder to "not get lazy" with classwork. Gast dressed as a lion for Week 3 with the groan-inducing claim that she'd "be lyin'" if she didn't say she missed her students.
Gast said she found enough costumes in her house to make it through the end of the semester. (Several of the costumes belonged to her now high school-aged sons.) She's ready to hit "buy" on an Amazon order to fill the final week.
Response from the class has been overwhelmingly positive.
"I'm sure some of them think I'm crazy," Gast said, "but a few have sent me notes saying they really needed that sort of pick-me-up. I guess a laugh is always welcome."
April 16, 2020
John Horton, 216-987-4281 john.horton@tri-c.edu