Dept. Of Labor Grant Provides $3 Million to Community Colleges for Nursing Training
Tri-C, others to collaborate on Northeast Ohio Nursing Postsecondary Completion Initiative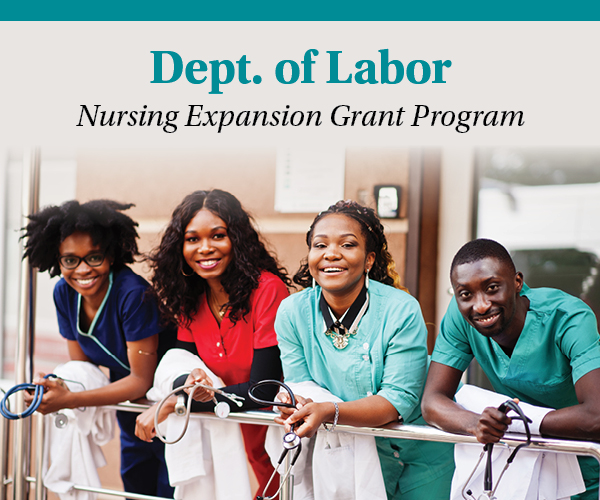 To expand and diversify Northeast Ohio's pipeline of qualified nursing professionals, the U.S. Department of Labor has awarded $3 million to Cuyahoga Community College (Tri-C®) and other regional community colleges and partners. About one in six nursing positions remains unfilled in the region.
The Northeast Ohio Nursing Postsecondary Completion Initiative (NEO-NPCI) is a broad collaboration with the Workforce Connect Healthcare Sector Partnership and educational, employer, workforce and community partners.
The NEO-NPCI will focus on growing diversity, equity, inclusion and accessibility in nursing pathways. The initiative will work to improve program completion and licensure passage rates among historically marginalized and underrepresented students in Licensed Practical Nursing (LPN) and Associate Degree in Nursing (ADN) programs. It will also focus on first-year LPN and RN-ADN employment retention.
"This collaboration is a win for the citizens of Northeast Ohio, for healthcare organizations, for the region's economy, and for future healthcare workers of all backgrounds," said Michael Baston, president of Tri-C. "Aligning educational and industry leaders around greater access for underrepresented populations and supporting their journey is critical to their success while helping meet the regional needs for more nurses."
The initiative is expected to support 1,025 participants — many of whom are Black and Hispanic — over five years. The grant will contribute to the Workforce Connect Healthcare Sector Partnership's broader efforts, which include developing strategies and solutions for hospitals' long- and short-term talent needs and improving collaboration, coordination and impact within the education, training and workforce ecosystem. Participants will include unemployed, underemployed and incumbent workers enrolled in an LPN or ADN program at a partner community college.
"These extensive supports for students and the additional interventions will be instrumental in ensuring success for the next generation of nurses," said Wendy Batch-Wilson, dean of the Nursing Center of Excellence at Tri-C. "We can better support students as they prepare for their certification and licensure exams, and as they begin their careers providing the highest quality of care to patients."
The grant also encourages collaboration among higher education institutions in the region. Tri-C will partner with Lakeland Community College, Lorain County Community College and Stark State College to train and provide supportive services to LPN and ADN students.
The NEO-NPCI also helps meet the needs of health care providers by providing highly trained nurses who are ready to work in the field. Providers affiliated with the collaborative include the Cleveland Clinic, Mercy Health, The MetroHealth System, Nord Center, Southwest General Health Center and University Hospitals.
In a joint statement, the health care institutions expressed their hope that the grant will open a path for more qualified nurses to enter the industry.
"Collectively, we are grateful to the U.S. Department of Labor and our community college partners for the various initiatives this grant supports," they said. "While the national nursing shortage has impacted each of our organizations, collaborations like this will enable more individuals to enter into a nursing career by meeting them where they are in their educational journey and providing them with pathways to become the highly trained nursing workforce we and our patients need."
To improve first-year nursing retention, the region's community colleges and hospital networks will partner with the National Association of Hispanic Nurses, Cleveland Council of Black Nurses and Ohio League for Nursing. Other partnerships will include OhioMeansJobs | Cleveland — Cuyahoga County, Lake County Workforce Development Board, Lorain County Workforce Development Agency, OhioMeansJobs Summit and Medina counties, and Stark Tuscarawas Workforce Development Board.
The total budget for the project is $4,785,075, with $2,999,813 of the federal grant funds covering 62.7% of the project costs. The partner organizations are providing $1,785,262 in non-governmental resources, which is 37.3% of the total budget.
"The Workforce Connect Healthcare Sector Partnership is excited that the Department of Labor sees the value and importance of the work we're doing as a region to invest in the nursing workforce," said Merle Gordon, director of the Healthcare Sector Partnership, an employer-led effort to develop career pathways in health care for Greater Cleveland residents. "Nursing program completion is an identified critical pain point, and we are thrilled to play a significant role in supporting students in their career journeys. This grant brings funding to the region's community colleges and a network of partners and employers to support students and strengthen pipelines."
This award is part of more than $78 million in grants awarded through the Department of Labor's Nursing Expansion Grant Program to support workforce training in 17 states and address the staffing challenges nursing professionals face in the care economy.
June 21, 2023
MEDIA CONTACT: Anthony Moujaes, 216-987-3068 or anthony.moujaes@tri-c.edu