Creating a Better Future
Student speaker Carla Carraway finds a voice for herself, others at Tri-C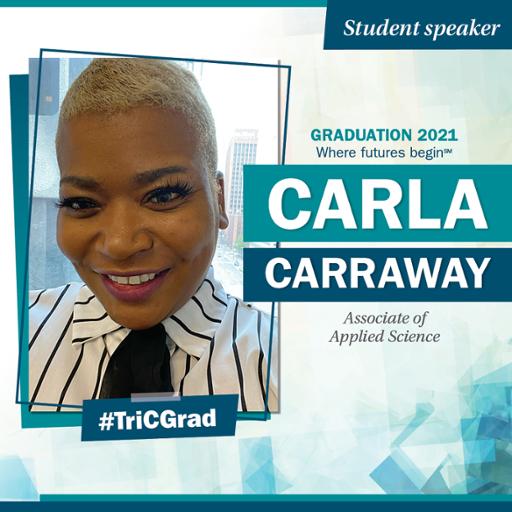 Empowered by her education at Cuyahoga Community College (Tri-C®), Carla Carraway will take the stage at Cleveland State University's Wolstein Center tomorrow evening, ready to speak up for herself and others.
That's when Carraway, selected as student speaker for Tri-C's Fall 2021 Commencement ceremony, will receive an Associate of Applied Science degree in criminal justice. She will also draw from personal experience to share a message of compassion and empathy with her fellow graduates.
When Carraway first began taking classes at Tri-C's Metropolitan Campus in 2007, she was five months pregnant and unsure of what direction to take.
"I was really struggling when I started at Tri-C," she said. "I was bringing home about $600 every two weeks."
She enrolled in the nursing program but took other courses to explore her various interests. She particularly enjoyed those taught by Rebecca Maleckar, assistant professor of criminal justice.
"I took every class she offered," Carraway said. "A lot of Tri C instructors come from a job and teach us. It's real hands-on, learning from people who live that life."
Carraway earned an Associate of Applied Science degree in law enforcement in 2009 and continued her studies at Cleveland State University, completing a Bachelor of Arts in political science two years later.
She recalls the hardships she endured when her journey began and how Tri-C helped shape her future.
"It's been monumental in changing my life compared to where I was when I first started," she said. "I'm ready to be an example for others — to be involved in social issues. Diversity, equity and inclusion are important to me."
A single mother to five children, Carraway supports her family as a full-time case research analyst for the Cuyahoga County Inspector General. Her interest in law as a profession reflects her passion for social justice.
"For African Americans, criminal justice is the biggest issue after poverty," she said. "And the best way to solve a problem is from the inside."
Carraway plans to take the LSAT in January and apply to the Cleveland-Marshall College of Law — something she didn't even consider as an option when she first enrolled at Tri-C.
"Don't allow the failures or fears in your life to stop you," she said. "The labels society places on you do not define you. You cannot control your past, but you can control your future."
Cuyahoga Community College will celebrate the academic achievements of its newest graduates during commencement on Dec. 16 at the Wolstein Center in Cleveland. Check our News and Events page leading up to the event for more highlights of the Class of 2021.
December 15, 2021
By Anthony Moujaes, 216-987-3068 anthony.moujaes@tri-c.edu