College Leaders Collaborate Around Recruiting and Retention Strategies
Michael Baston, Angela Johnson share ideas for re-enrolling students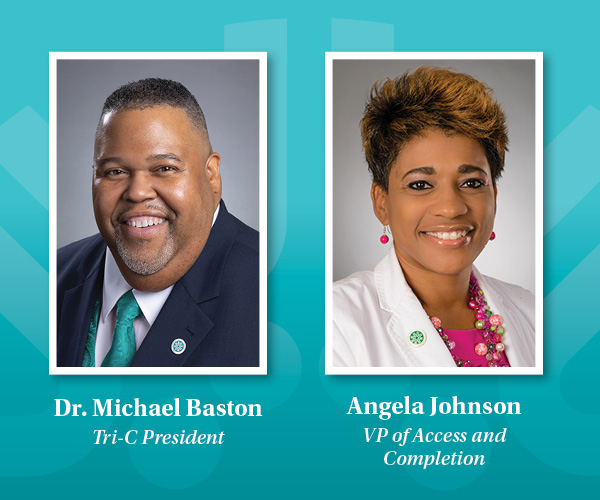 Two Cuyahoga Community College (Tri-C®) leaders were at the forefront of a national discussion on the importance of public colleges as educational and economic ladders for low-income or first-generation students and working adults.
Tri-C President Michael Baston and Vice President of Access and Learning Angela Johnson were part of the leadership conference of the Association of Community College Trustees, which met in New York City in October to discuss strategies for recruiting and retaining students. The Chronicle of Higher Education provided coverage of the event.
Johnson told attendees that Tri-C's focus is re-enrolling students who dropped out amid the pandemic through programs like College Comeback, Level Up and Ohio College Comeback Compact — all of which provide some form of debt forgiveness.
Johnson said the College used federal COVID-relief dollars to pay past-due balances for 3,100 students, with a quarter of that group re-enrolling to complete their degree or certification.
Additionally, enrollment in short-term programs lasting only eight weeks has grown by more than 20% — exemplifying students' need for flexibility.
"There used to be a time when people would work around school," Baston said, adding that students are fitting their school schedules around work.
Baston also spoke about the skepticism around the value of higher education. Gen Z and millennials see the massive debt accrued by their parents and siblings, Baston said, and have decided that working is a better economic option.
Read the story at chronicle.com (registration required).
November 03, 2022
MEDIA CONTACT: Anthony Moujaes, 216-987-3068 or anthony.moujaes@tri-c.edu