Caring for the Community
Tri-C's Preventative Care Center began offering low-cost health care services a decade ago. Last fall, the center scheduled its 5,000th appointment.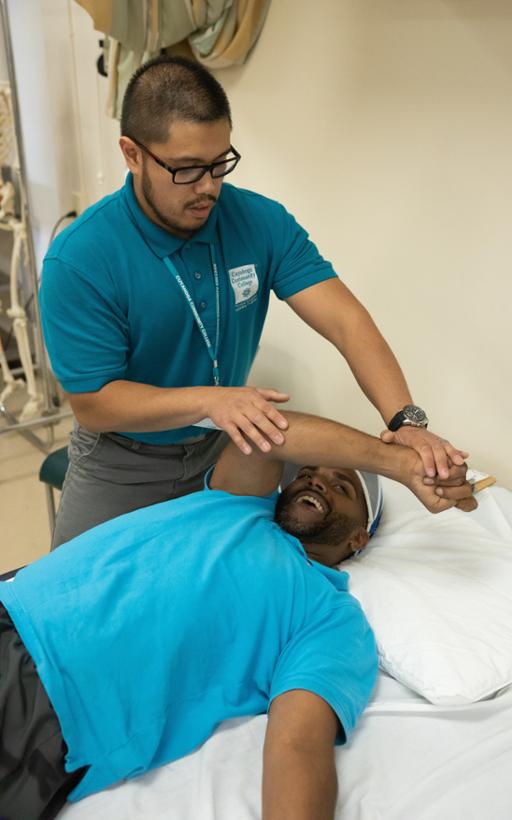 Alan Davis took a deep breath and closed his eyes. He knew the next few minutes would be a struggle. Slowly, while lying on his right side, he began inching his left leg forward on a table pulled close to his bed.
The 63-year-old Cleveland man clenched his teeth while straining to move the disagreeable limb and work his weakened hip flexors and extensors.
Whenever he slowed down, Bryant Dela Cruz encouraged him to push harder.
"Straighten that leg all the way," said Dela Cruz, a second-year student in the physical therapist assistant program at Cuyahoga Community College. "Now bring it back. Good … good ... Now let's do it again."
Similar conversations filled the room at Tri-C's Preventative Care Center at Metropolitan Campus. The center provides low-cost health care services to community members while giving Tri-C health career students learning and training opportunities in a clinical setting.
Tri-C opened the center a decade ago, with the initial setup powered by a grant from the U.S. Department of Labor. Last fall, it scheduled its 5,000th appointment.
The center fills with people every Tuesday and Thursday afternoon during fall and spring semesters. Davis became a regular three years ago as he sought to combat the spinal stenosis he inherited from his father.
His goal is to gain enough strength and stability to shed his walker: "If I stopped doing what I'm doing, I'd stop moving," Davis said. "I want to get better. That's why I keep coming back."
The center is staffed by students studying to be medical assistants, physical therapist assistants, occupational therapy assistants and dietetic technicians. They work under the supervision of licensed or certified health care providers.
A few paces from where Dela Cruz worked with Davis, Tri-C instructor Sharon Kanz kept a watchful eye on their interactions. She occasionally offered Dela Cruz tips or stepped in to demonstrate a technique.
The same dynamic took place across the room, where Tri-C student Oleh Zavatskyy walked 67-year-old Theresa Vodka through a series of exercises to rehabilitate a back injury and lessen her sciatic pain.
Zavatskyy bounced ideas off Tri-C's Chris Headrick throughout his session with Vodka. Headrick is the academic coordinator of clinical education with the College's physical therapist assistant program.
"We like to let the students problem-solve and come up with things to do," Headrick said. "Our goal is guide them without micromanaging."
Rotations through the care center are built into the curriculum of Tri-C's health career programs. The sessions bring classroom lectures and textbook lessons into real-life focus for students.
Aside from physical and occupational therapy sessions, the center offers services such as blood pressure readings; glucose and cholesterol screenings; pain management; bone density screenings; nutritional coaching; stress management; and exercise and education programs.
Students receive the experience of working in a clinical environment without leaving campus. They learn by working with people who are dealing with real pain and problems — something that can't be replicated in a classroom.
Dela Cruz expects to graduate from Tri-C in May once he finishes his clinical rotation, an in-the-field training opportunity that he feels more than ready to begin following his time at the care center.
The 32-year-old from Brook Park said the life-changing work of a physical therapist assistant  convinced him to enter the field. His time in Tri-C's Preventative Care Center drove that point home.
"You're not just providing care for someone," Dela Cruz said. "You're giving them skills to become stronger, to take control of their life. It's amazing to see someone gain that power. You see the difference you can make for someone."
Someone like Dave Jarvey.
Four strokes upended 36-year-old Jarvey's world a few years ago, transforming his athletic build into a collection of uncooperative muscles. The man who once skied and played softball suddenly couldn't tie his own shoes.
Dela Cruz spent part of a recent session in the care center helping Jarvey work to reverse the damage from the stroke. A cone-stacking exercise focused on rebuilding hand strength, as well as coordination and trunk stability.
Again and again, Jarvey went through the drill. Dela Cruz coached him with each repetition.
Jarvey said his goal is to return to his old self. The father of three from Cleveland said he has seen improvement since beginning his physical therapy sessions at Tri-C in 2018. None of it, he said, came easy.
He credited the support he found at the care center with giving him the power to continue.
"These kids … they won't let you give up," Jarvey said. "They give me hope here. I can't say enough about the job these students do. If these are our future caregivers, we're all going to be in good hands."
No physician referral is needed for an appointment at Tri-C's Preventative Care Center. Many services are free; others come with a minimal fee of $5 to $10. The center reopens Jan. 21 for spring semester. Call 216-987-3555 to schedule an appointment.
January 06, 2020
John Horton, 216-987-4281 john.horton@tri-c.edu