Building a New Career
Brett Todd earns degree in construction engineering following workplace injury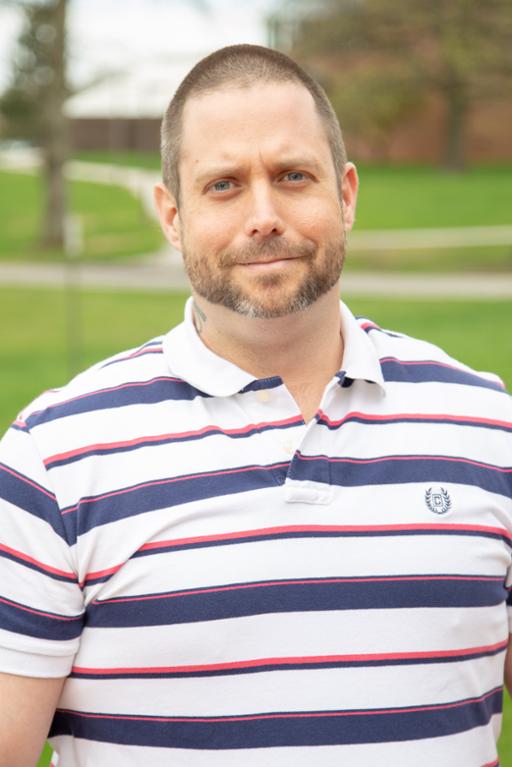 Brett Todd was on a job site cutting concrete when his life changed. He made a wrong move and tore pieces of cartilage in both of his shoulders.
Todd, 35, had plied the construction trade for 10 years. He had dropped out of high school and found a niche cutting concrete. He had worked on First Energy Stadium and the Innerbelt. He said he loved "making a difference" in the city he grew up in.
But then, in an instant, he was rendered incapable of working.
He knew years of recovery awaited. What he did not know was how he would earn a living after three surgeries and rounds of physical therapy.
That's when someone at the Bureau of Workers Compensation recommended Cuyahoga Community College (Tri-C®) and its Construction Engineering Technology program. The program offered Todd a way to stay in the industry despite his injuries.
He'll graduate from Tri-C this month with an Associate of Science degree and enter a growing field. Federal employment forecasts show an above-average increase in construction engineering and manager jobs in the coming years.
"I am excited about my future," he said.
Todd enrolled at the College in 2017 and took most of his classes at Western Campus, where he had once done construction work. He lives in Parma with his wife and two daughters, just a few miles from campus.
"Just being at school, I have learned quite a bit about myself," Todd said. "When I didn't think I could dig any deeper, I found a little bit more and a little bit more."
Particularly when it came to math courses.
Working in engineering means being proficient in math — never a strength of Todd's during his high school years. He overcame that at Tri-C by using tutoring labs at Western Campus and seeking help from his professors during their office hours.
He said he learned that if he set goals, he was capable of reaching them and succeeding in an academic atmosphere. Sheer determination helped, too.
"Math is very, very challenging for me," Todd said. "I credit a lot of my success to the staff here at Tri-C. They were supportive and encouraging. If I was willing to get help, they were willing to help me."
Cuyahoga Community College will celebrate the academic achievements of thousands of students on May 16 at Spring Commencement. Check our News and Events page in the days leading up to the ceremony as we highlight members of the Class of 2019.
May 03, 2019
Jarrod Zickefoose, 216-987-4750 jarrod.zickefoose@tri-c.edu