Artist and Humanitarian Mahani Teave To Perform in Tri-C's Classical Piano Series
Free recital takes place Oct. 22 at Cleveland Museum of Art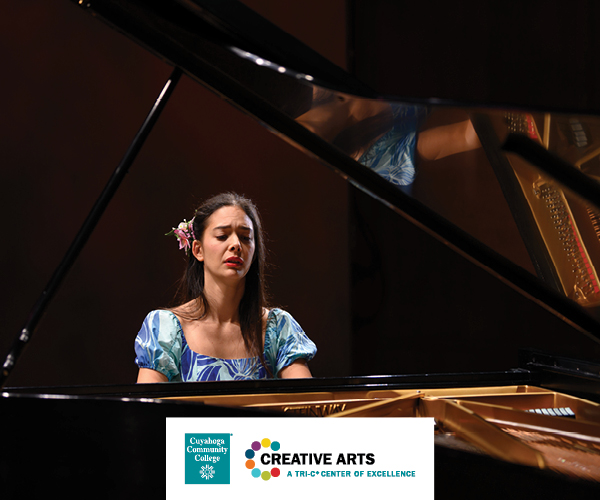 Award-winning pianist Mahani Teave, known for bridging the creative world with educational and environmental activism, will perform in the Classical Piano Series, presented by Cuyahoga Community College (Tri-C®). The concert is Sunday, Oct. 22, at 2 p.m. in the Cleveland Museum of Art's Gartner Auditorium (11150 East Blvd.) in University Circle. The performance is free, but tickets are required.
As the only classical musician on her native Easter Island (also known as Rapa Nui), Teave made her debut at age 9 and pursued her piano studies in Chile, Berlin and at the Cleveland Institute of Music as a student of Sergei Babayan. She returned to Easter Island at age 30 and founded her island's first music school, Toki Rapa Nui, a self-sustaining ecological wonder that teaches children about renewable natural resources and their quickly fading cultural heritage.
Teave's debut album, Rapa Nui Odyssey, received critical acclaim, and she recently released a children's book, The Girl Who Heard the Music. Teave's story was captured in the Emmy-nominated documentary Song of Rapa Nui by filmmaker John Foresen, which was featured on multiple media outlets, including NPR, CBS News Sunday Morning, the PBS NewsHour, CNN and the BBC.
Teave has performed on six continents, from the stages of concert halls to hospitals, schools, jails and low-income communities. In addition to her recital in Cleveland, Teave will present educational activities for students at Tri-C and community students of the Creative Arts Academy.
This is the third performance in the 2023-2024 season of Tri-C's Classical Piano Series. The series is celebrating its 17th year of introducing emerging and established pianists from around the world to the Greater Cleveland community.
Call 216-987-2060 or visit Tri-C's Classical Piano Series webpage for more information.
Concert Program:
Ancestral Rapa Nui/José Miguel Tobar: I hē a Hotumatu'a
Alejandro Arevalo: Suite Rapa Nui
Chopin:

Nocturne, Op. 9, No. 1
Étude, Op. 10, No. 12
Nocturne, Op. 72, No. 1
Barcarolle, Op. 60 in F# Major
Scherzo, No. 1 in B minor, Op. 20

Liszt: Ballade, No. 2 in B minor
Rachmaninoff:

Moment Musical, Op. 16, No. 1
Moment Musical, Op. 15, No. 4
October 12, 2023
MEDIA CONTACT: Anthony Moujaes, 216-987-3068 or anthony.moujaes@tri-c.edu