Alex Johnson Reflects on 40-year Career in Radio Interview
Retiring Tri-C president speaks with ideastream about serving community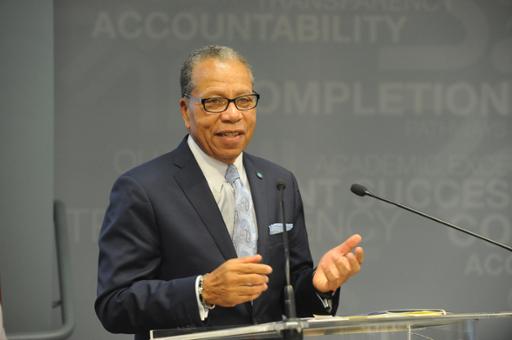 Outgoing Cuyahoga Community College (Tri-C®) president, Alex Johnson, leaves behind a legacy of expansion in the College's physical footprint as well as in career opportunities. He concludes his nearly decade-long tenure as Tri-C's fourth president on June 30.
Johnson spoke with ideastream Public Media host Rick Jackson about his career and the foundation of his commitment to access and equity that inspired his work in higher education.
"I've been at the institution more than 20 years and have seen great opportunities to serve our community in bigger and better ways," Johnson said.
His tenure will be remembered for a marked increase in graduation rates, which — as Johnson explains — resulted from a greater focus on access, success and completion. Tri-C's graduation rate increased from 3% to 24% since Johnson became president in 2013.
As a young Black child growing up in segregated North Carolina, education and educational equity provided the foundation for Johnson's commitment to diversity, equity and inclusion.
"I went to a segregated school, participated in activities that were segregated, and went to a library with meager holdings for African American patrons," Johnson said. "I learned personal growth and development and applied that in my work at Tri-C and beyond."
Listen to the entire interview on the ideastream website.
June 07, 2022
By Anthony Moujaes, 216-987-3068 or anthony.moujaes@tri-c.edu