Tri-C President Alex Johnson on Developing Leadership Skills
Tri-C president says demeanor, collaboration and advocacy are critical skills to master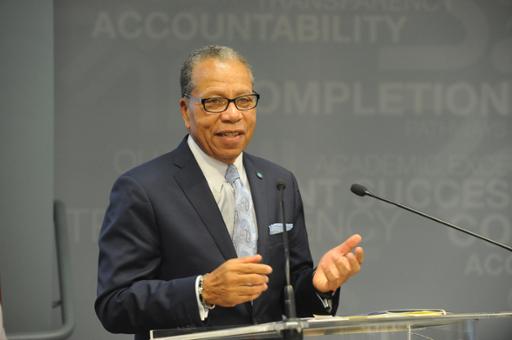 In his continuing series of Smart Business Cleveland columns, Cuyahoga Community College (Tri-C®) President Alex Johnson has written about the characteristics and skills necessary to be a transformative leader.

His most recent column, published last week, focuses on three skills in particular that a transformative leader should develop and master: a commanding demeanor, collaboration and consultation, and advocacy.

Leaders with a commanding demeanor are intentional about projecting themselves as a leader.

"Terms sometimes used to describe leaders of transformation are motivated, inspired and polished," Johnson writes. "These attributes provide clarity and confidence when representing and articulating the organization's vision, core values and operational principles."

A leader's collaborative and consultative abilities are essential for building consensus within a transformational system.

"Collaborating and consulting, when applied proactively in a context of ongoing communication, can help to counter concerns and contribute to a healthier culture," he writes. "Simultaneously, this will enable you to recognize and reward individuals who are essential to the success of continuous improvement."

As advocates, transformative leaders are instrumental in creating an environment that supports and empowers colleagues.

"In this regard, you are a role model — you set the pace for the rest of the organization, creating a positive and productive working atmosphere," Johnson continues. "You inspire high — but achievable — expectations and, consequently, infuse high standards of excellence in the organization."

Click here to read the full column.
January 12, 2021
Erik Cassano, 216-987-3577 or erik.cassano@tri-c.edu