Alan Rosskamm, Ted Tywang Named to Tri-C Board of Trustees
Cuyahoga County Executive Armond Budish names executives to four-year terms on board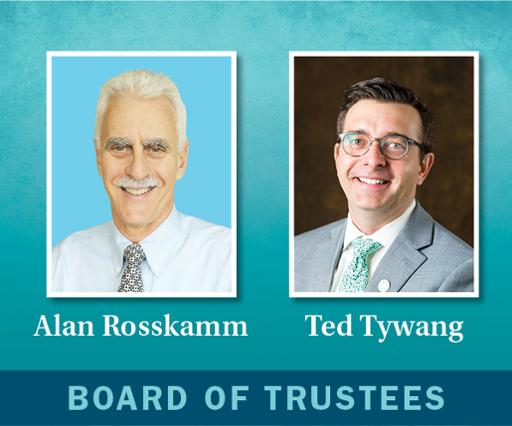 Alan Rosskamm and Ted Tywang have been appointed to the Cuyahoga Community College (Tri-C®) Board of Trustees.
Rosskamm was CEO of Breakthrough Public Schools, a nonprofit organization supporting a network of charter schools serving more than 3,600 Cleveland students, from 2009 until his retirement in 2021. A national study by Stanford University's Center for Research on Education Outcomes named Breakthrough the top-performing charter network in Ohio.
As president and CEO of Jo-Ann Stores Inc. from 1985 to 2006, Rosskamm helped the company grow to more than 800 stores and become the nation's largest retailer of both fabrics and crafts.
From 1994 to 2012, Rosskamm served on the board of Charming Shoppes Inc., a 2,000-store women's apparel retailer that includes subsidiary brands Catherines, Fashion Bug and Lane Bryant. He was interim CEO during Charming Shoppes' 2008-2009 turnaround.
The Gates Mills resident holds a B.A. from Swarthmore College, a J.D. from the University of Chicago Law School and an EMBA from Case Western Reserve University's Weatherhead School of Management. He was an attorney at Thompson Hine for four years.
His community involvement includes serving on the boards of Hawken School and the Mt. Sinai Health Care Foundation and as a life trustee of the Diversity Center of Northeast Ohio.
Tywang has served as vice president and general counsel for Haslam Sports Group (HSG), which includes the Cleveland Browns and the Columbus Crew, since 2017. Besides serving as chief in-house counsel for both clubs, he also heads up government affairs for HSG.
Before joining HSG in 2016, Tywang was a corporate associate in the sports law group of
Proskauer Rose LLP, an international law firm headquartered in New York City.
Tywang holds a bachelor's degree in government from Georgetown University and a J.D. from Columbia Law School, where he was a Harlan Fiske Stone Scholar and president of university's Entertainment, Arts and Sports Law Society.
The Nashville native lives in Ohio City and serves on the boards of the Cuyahoga Community College Foundation, the Legal Aid Society of Cleveland and Engage! Cleveland.
The two men were appointed by Cuyahoga County Executive Armond Budish. Rosskamm was sworn in May 26, and Tywang April 26. Rosskam replaces J. David Heller; Tywang replaces John Skory.
June 07, 2022
By Anthony Moujaes, 216-987-3068 or anthony.moujaes@tri-c.edu