Accounting for Success
Elsa McKnight was a new mom, working full time and struggling. She found a path to a better life at Tri-C.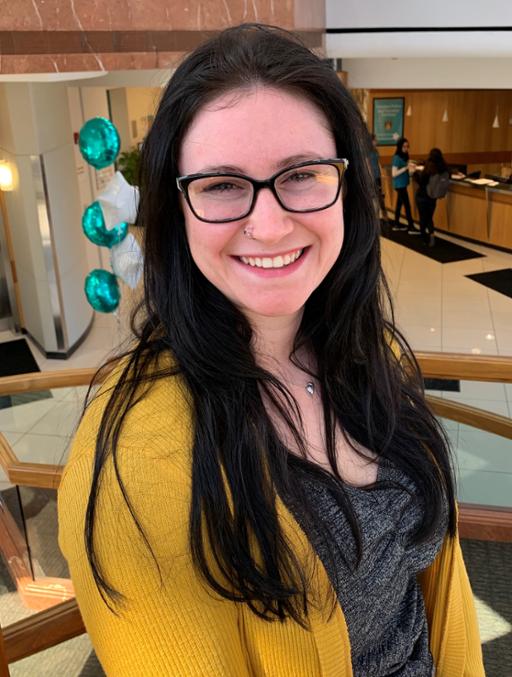 Four years ago, Elsa McKnight was a 20-year-old new mother living paycheck to paycheck at a waitressing job.
But there was a silver lining to her struggles: McKnight had to carefully manage her household budget, and it gave her an unexpected education in personal finance. She discovered she enjoyed it.
"I really enjoyed organizing, details and problem-solving," McKnight said. "When you're putting together a budget, you have to develop those skills."
But she also knew she didn't want to live on a shoestring for the rest of her life. She needed a new career path. And for that, the Lakewood resident turned to Cuyahoga Community College.
McKnight, now 24, will graduate from Tri-C this month with an Associate of Arts degree. She'll now pursue a bachelor's degree in finance at Cleveland State University or Baldwin Wallace University, and hopes to earn her CPA certification afterward.
She said it took her a while to connect the dots after enrolling at Tri-C in 2016.
"I didn't have much of a direction when I came here," she said. "My professors and counselors helped me by asking what I enjoy doing, what field I'd like to work in and where the best job availability would be. Through those conversations, I decided I wanted to become an accountant."
The next couple of years weren't easy. McKnight had to continue working to support her daughter while taking classes in a demanding Tri-C program. But not only did she pull off the difficult balancing act, she flourished — becoming an Honors Program student, joining Phi Theta Kappa and being selected for the All-Ohio Community College Academic Team.
In her time at Tri-C, McKnight has transformed her life.
"I graduated from Kenston High School in 2012 and made a lot of mistakes afterward," she said. "I went to the University of Dayton for a short time after graduation, wanting to become a teacher, but that didn't work out. After that, I really had no direction until I had my daughter and then came to Tri-C."
McKnight's own hard work played the biggest role in why she's eyeing a brighter future for herself and her daughter, now 4. But she's thankful for the foundation Tri-C helped her build.
"I didn't have a lot of self-confidence when I started at Tri-C, but the people here helped give me confidence," she said. "I learned about accounting, but I also learned a lot of skills that help me in my personal life. I learned what I had to do to be successful, both in a career and in life.
"Three years ago, I was working at a serving job with no career direction. Now I'm thinking about studying for a Ph.D. It shows how successful you can be if you work hard and believe in yourself."
Cuyahoga Community College will celebrate the academic achievements of thousands of students on May 16 at Spring Commencement. Check our News and Events page in the days leading up to the ceremony as we highlight members of the Class of 2019.
May 02, 2019
Erik Cassano, 216-987-3577 erik.cassano@tri-c.edu