According to Plan: Tri-C Trustee Speaks About President Search as Process Nears End
Trustee and advisory committee chair Victor Ruiz outlines search progress in interview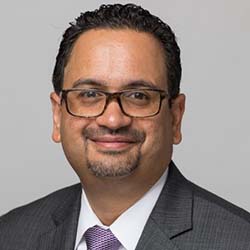 Cuyahoga Community College (Tri-C®) is at the doorstep of change. One of three diverse and highly qualified candidates will be chosen as its next president in early May, concluding a search process that formally launched in late January.
Trustee Victor Ruiz, who chairs the presidential search advisory committee, spoke with Crain's Cleveland Business about the search process and the challenges and priorities for Tri-C's next leader.
Three finalists — Michael Baston (Rockland Community College), Annette Parker (South Central College) and Colette Pierce Burnette (Huston-Tillotson University) — visited Tri-C for meetings and public town hall discussions.
Diversity was top-of-mind throughout the process, as the Board selected a search firm with a proven track record of sourcing diverse candidates. In all, 29 individuals applied for consideration.
"We want to make sure that we are truly representative of the individuals that we serve, and we know that people want to see themselves in their leadership," said Ruiz. "We also know that our students demand diversity and intersectionality and equity."
Read the story at Crain's Cleveland Business. (Subscription required.)
April 22, 2022
By Anthony Moujaes, 216-987-3068 or anthony.moujaes@tri-c.edu