A Bucket-List Achievement
After 50 years in nursing, Linda Dove returned to Tri-C for her degree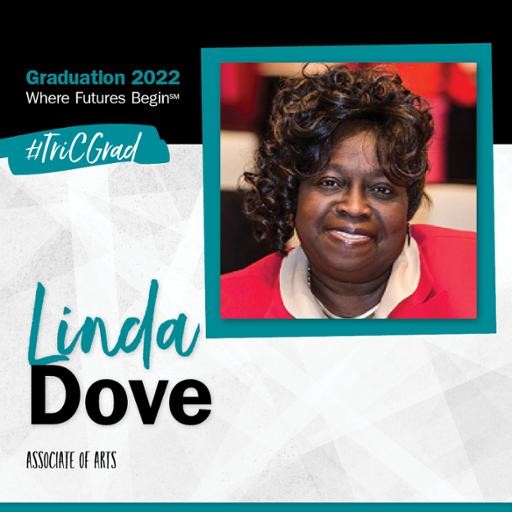 Linda Joyce Dove started at Cuyahoga Community College (Tri-C®) in 1968, when the College was just five years old. After completing a partnership program between Tri-C and St. Vincent Charity Hospital's School of Nursing, she embarked upon a successful 50-year career as a residential nurse.
But one important item remained on her bucket list: Earn an associate degree.
Dove can finally cross that item off, as she prepares to graduate June 2 with an Associate of Arts.
Her family is amazed that the mother of two adult children and grandmother of an incoming high school freshman could complete her courses so quickly.
"They're more excited than I am," Dove said. "But I really don't want any fanfare."
Dove worked as a pediatric specialist with the Cleveland Clinic and the Cuyahoga County Board of Developmental Disabilities. Fortunately, her dedication to public health didn't end at retirement.
In 2010, she started North Coast Nurses Coalition — a nonprofit group of nurses who provide free health education at health fairs and local organizations, primarily within urban communities.
In December 2021, Dove contacted Tri-C to determine what she needed to do to complete a degree. Discovering that she was only six credits away from earning an Associate of Arts, she returned to the classroom ­— this time as an online student.
Though she was nervous about navigating the technology, online learning worked well for the 72-year-old, who has some mobility issues. Dove's professors showed her how to submit tests and download course materials, and by the time her second 8-week course came around, she was helping her grandson with his online courses.
"I feel that student accessibility has improved due to the pandemic," she said. "It took discipline and time, and I had a lot of both of those."
After graduation, Dove plans to travel to New Orleans as a journalist for her sorority, Eta Phi Beta. She also hopes to continue providing public health education with fellow nurses in the community.
Cuyahoga Community College will celebrate the academic achievements of its newest graduates during commencement on June 2 at Progressive Field in Cleveland. Check our News and Events page leading up to the event for more highlights of the Class of 2022.
June 02, 2022
By Katie Ramunni, 216-987-4823 or katie.ramunni@tri-c.edu