A Beloved Cleveland Character: Stomp Named Best College Mascot
Tri-C recognized among Best of Cleveland 2023 by Cleveland Magazine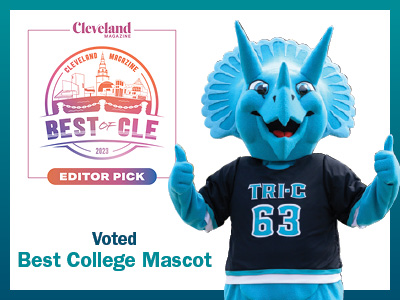 The Triceratops roams Northeast Ohio as one of the Best of Cleveland picks for 2023 by Cleveland Magazine.
Cuyahoga Community College (Tri-C®) mascot Stomp was recognized as the Best College Mascot by Cleveland Magazine. The publication's October "Best Of" issue features reader and editor picks on the best places in Northeast Ohio for food, drink, entertainment, shopping and more.
"We at Cleveland Magazine appreciate a good pun, so when Cuyahoga Community College picked a Triceratops as its mascot, we were all for it," magazine staff wrote. "Chosen in an online poll, Stomp, Tri-C's 7-foot-tall Triceratops, instantly became a beloved Cleveland character."
With "Tri-C" built into its name, the dinosaur was ideally suited to represent the College. Students, staff and alumni chose the Triceratops as the school's new mascot in a 2019 online poll that attracted more than 4,000 votes.
The mascot came to life in the form of Stomp. Colored in the school's trademark teal and wearing a black jersey with the number 63 — representing the year the College opened — Stomp is a recognizable symbol of pride, loyalty and belonging across the Tri-C community and the College's athletic programs.
September 29, 2023
MEDIA CONTACT: Anthony Moujaes, 216-987-3068 or anthony.moujaes@tri-c.edu