2022 Outstanding Advisory Committee and Community Champion Award Recipients Announced
Awards recognize outstanding committees, individuals and organizations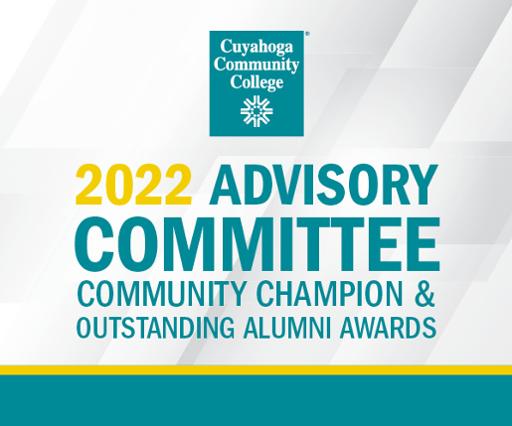 Cuyahoga Community College (Tri-C®) announced its 2022 Outstanding Advisory Committee and Community Champion award recipients during a virtual ceremony on June 21.
Outstanding advisory committees provide exemplary service and include Northeast Ohioans from a wide range of professions who utilize their expertise to aid the College's mission.
This year's Outstanding Advisory Committee winner is Tri-C's Automotive Technology Ford ASSET Committee, led by program manager Nanci Coleman; associate dean Pam Grant; assistant professor Tim Balawender; and program assistant Kristen Tomcho.
"We are fortunate because this region has many professionals who lend their knowledge to our faculty and staff to ensure students receive the very best education possible, which enables them to step into a job as a valuable team member," said Karen Miller, Tri-C's provost and executive vice president of Access, Learning and Success.
Recipients of the 2022 Community Champion Award include two local organizations and four individuals who have served as tremendous examples of community service in the past year.
Corporate Community Champion, Business Over 50 Employees:
Bank of America Cleveland and its president, Jeneen Marziani. Bank of America is a key partner in funding Tri-C programs and wraparound services that connect students to jobs in thriving communities since 2016. Programs include the Veterans Initiative, Job Link workforce training, Cleveland Codes, Youth Technology Academy, Adult Diploma Program and more.
Corporate Community Champion, Under 50 Employees:
Rebuilding Together Northeast Ohio and its president and CEO, Pam Schuellerman, a 2021 graduate of the Goldman Sachs 10,000 Small Businesses program. Focused on making homes safe and healthy, Rebuilding Together Northeast Ohio features the SHE BUILDS program, a women-led and women-focused program providing critical repairs for women-headed households and women-focused spaces.
"These companies and individuals go above and beyond to support student success at Tri-C, and these recognitions reflect their commitment and effort," said Claire Rosacco, vice president of Government Relations and Community Outreach.
Individuals honored as Community Champions include:
Bill and Joyce Litzler, of Westlake, are community leaders who share a passion for enriching the lives of Tri-C students, dating back to their first gift in 2006. That contribution provides critical support through their endowed scholarship fund, which benefits graduates of the Seeds of Literacy program and other GED graduates who continue their education at Tri-C.
Audra T. Jones, of Cleveland, is an entrepreneur, author and leadership coach who has served and supported Tri-C students for more than 10 years as an adjunct faculty member in the Business department and through the College's GED programs.
Monica Starks, of Bedford Heights, is an adjunct faculty member in Tri-C's Sociology department. She demonstrates leadership, volunteerism and a sense of caring and responsibility through involvement in various committees and activities — including the Let's Talk About It series, the Stand for Racial Justice alliance and the Black American Council — and regularly advocates for student engagement in leadership and empowerment programming.
Visit tri-c.edu/awards2022 to view the entire program, which also includes a conversation with outgoing Tri-C president, Alex Johnson.
June 25, 2022
By Anthony Moujaes, 216-987-3068 or anthony.moujaes@tri-c.edu