10KSB Teaches Local Marketing Maven the Benefits of Single-Tasking
Sue Stabe, co-founder of Long & Short of It, discovers new approach for helping clients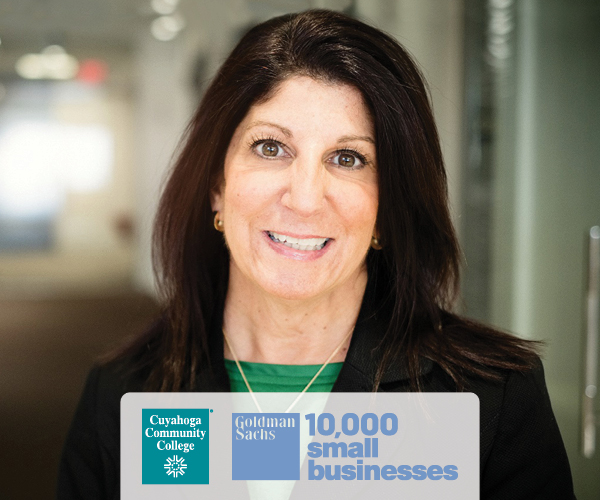 Business owners can learn from one another, regardless of their industry.
For Sue Stabe, co-founder of Long & Short of It, the stories and experiences shared by fellow participants made the Goldman Sachs 10,000 Small Businesses (10KSB) program at Cuyahoga Community College (Tri-C®) invaluable.
"Every business owner had something unique to share, and everyone benefited from it," she said. "The industry doesn't matter. We are all business owners, and we all deal with similar issues. Each week was new and exciting."
Stabe co-founded Long & Short of It, a brand development and marketing consulting agency, with Dean Ilijasic in 2016.
While she had been aware of Tri-C's 10KSB program, she didn't realize how much it could benefit her company.
"I've known about the program for years, but I never knew it was for me," Stabe said. "Then a graduate, Anthony Milia [of Milia Marketing], said I'd be great for it and recommended me."
While attending 10KSB from January through April of 2022, she discovered the importance of single-tasking.
"The program greatly impacted our business, and we are just now going through everything to determine what we are putting into action and when," Stabe said. "One big lesson is to focus on one area at a time. You focus on one growth opportunity throughout the 13 weeks. That was a different way to work for our business."
Stabe plans to use this new approach when she discusses her company's marketing services with clients.
"Talking about it in a general way isn't meaningful to anyone," she said. "We're now focusing on one area at a time so our target audience understands that service."
Stabe and Ilijasic met while working in marketing at KeyBank in 2008, and by 2013, their careers had taken both of them to Adcom. In the latter half of 2015, they developed a strategic plan for their own business — in Cleveland-area bars.
"We couldn't do it during work hours, so we went to bars at night. I think we hit every bar in downtown Cleveland, Tremont and Ohio City," Stabe said. "And we still enjoy going to those places for planning. It's just in our DNA. It's how we started, so it seems natural."
Stabe's vast career has included work with consumer and B2B brands on product development, brand health, ideation and innovation.
Learn more about Goldman Sachs 10,000 Small Businesses at tri-c.edu/10KSB. 
May 05, 2023
By Noelle Bye, 216-987-4545 or noelle.bye@tri-c.edu