10KSB Helps Rachel Robison Build a Better Business
Owner of Robison Equipment gained new tools, insight in program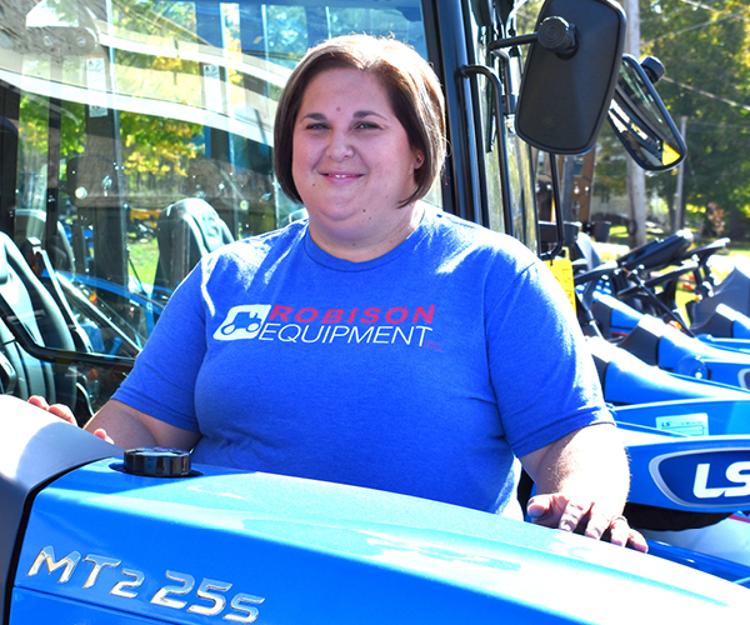 Learning never stops for business leaders — even when your company has been around for 76 years.
It's why Rachel Robison, co-owner of Robison Equipment Company Inc., attended the Goldman Sachs 10,000 Small Businesses (10KSB) program at Cuyahoga Community College (Tri-C®) last year.
Robison and her husband, P.J., operate the business, founded by P.J.'s grandfather in 1945. Based in Geauga County's Thompson Township, Robison Equipment sells farming, landscaping and lawn care equipment primarily to small farms and homeowners in the area.
The company has a strong, stable business model and loyal customer base, but when a 10KSB alum recommended the program to Robison, she was interested.
"I don't have a business background," she said. "My career prior to this was in the medical field. So when I read about the program and the tools it could give me to become a better leader, I was excited."
Robison enrolled in 10KSB in 2019, graduating in spring 2020 — just as the COVID-19 pandemic began to disrupt businesses across the country.
But even in the face of a global health crisis, Robison still discovered ways to use what she learned in the 10KSB program to improve the way Robison Equipment operates.
"I think the first thing 10KSB showed me was the importance of putting the right people in the right places on your staff," she said. "Since we took over the business five years ago, my husband has been the mechanic on staff, but he also had to help run the business along with me. He ended up getting interrupted from mechanical work dozens of times a day, which was very inefficient."
The company hired a new mechanic, allowing the Robisons to focus on the customer-facing side of the business.
Robison also learned that, even in a family-operated business, developing cultural principles and living by them is important.
"I had no idea about culture before 10KSB," she said. "But as I was in the program, I started to really think about who we were as a company and what we wanted to be."
Robison realized that success as a rural business amid a pandemic would require balancing the stability of the company's third-generation, family-run background with the willingness to embrace an entrepreneurial mindset and take chances.
Due to a desire to expand services as well as maintain safe distancing during the pandemic, Robison Equipment began to test new ideas — such as parts delivery and new payment methods — on top of the safe-distancing practices implemented by most businesses.
"We'd set up displays outside, space out our showroom and find new ways to engage customers from a distance," she said. "We've been more proactive about reaching out to customers. Just being creative with the situation, trying to find solutions in a difficult time. I feel 10KSB really empowered me — and, by extension, the whole staff — to do that."
Despite pandemic-related restrictions, revenues at Robison Equipment increased by 30% last year.
"10KSB gives you such a broad education," Robison said. "You learn how to dig deeper on the details of your business but still pull back and take a broad overview of where you and where you want to go. It gives you many tools to help you run your business successfully."
January 11, 2022
By Anthony Moujaes, 216-987-3068 or anthony.moujaes@tri-c.edu