Meet Tyler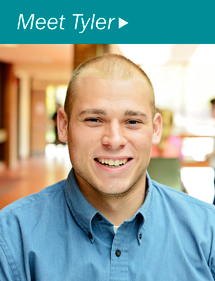 Tyler Lienerth graduated from MidView High School with eyes on playing college baseball. He had an offer to play at a four-year college, but chose to attend Cuyahoga Community College after visiting the coach and seeing the college. He earned a scholarship and played ball for the Tri-C team in 2015 and 2016. The Tri-C baseball team earned championship honors in 2016, winning the OCCAC (Ohio Community College Athletic Conference).
An honors student, Tyler earned an Associate of Applied Business degree from Tri-C, majoring in Business Management. He also worked throughout his two years, balancing the responsibilities of his job with his fulltime course load at Tri-C.
After graduating from Tri-C, Tyler transferred to Baldwin-Wallace University, where he is a junior and continues to play baseball.