Meet Shannon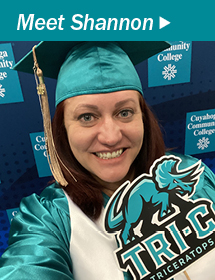 Shannon Gallagher started college for all the wrong reasons.
She had no desire to continue her education after graduating from Parma High School, but her mom insisted. So Gallagher enrolled at the University of Akron.
But lacking desire and any sense of direction, she found the taste of freedom more intoxicating than getting good grades. Her GPA fell to a 0.4. Administrators didn't even bother with academic probation and dismissed her after her first year.
Gallagher wasn't overly concerned. She figured she could cut it on her own without a college degree. Her mom, however, was not so sure. So again, to appease that demand, Gallagher enrolled at Cuyahoga Community College (Tri-C®). But the day she walked into the Enrollment Center in 1997, that same ambivalent feeling crept over her.
"Why am I here?" she asked herself. She didn't have a good answer, and the same thing happened. She got bad grades, and before long, she wasn't a Tri-C student.
Gallagher did, however, manage to cut it on her own. She took an entry-level job with Gries Financial Partners, answering phones and helping senior members of the firm with projects. Over the next 25 years, she moved up in the ranks. Today, she is the director of operations and client services at Gries, a Cleveland-based registered investment advisor and wealth management firm. She oversees the operations of almost $1.5 billion in assets.
And yet, something was still nagging at Gallagher.
All of her peers had a college degree, and this bugged her. A friend and mentor at Gries asked her one day, "What are you waiting for?" Gallagher had no good answer. Her excuse was that she was waiting for the right time — but the right time rarely comes. She had to make the time right.
More than proving to her mom that she could do it, she wanted to prove to herself that she could do it. By this time, Gallagher didn't need a degree — she wanted one.
She enrolled again at Tri-C in 2019, this time determined and with a clear goal. She earned her associate degree in business management in Spring 2023. Far from flunking out, she got almost all As — and the one course she didn't get an A in still irks her.
Gallagher didn't need to be smarter. She didn't need more time. She needed a purpose, and she found it years after her first attempt.
"Earning my degree 27 years after my first attempt gives me such an incredible sense of accomplishment. My college experience started off so horribly, and it was pretty intimidating to come back as an adult. Tri-C made it very easy and manageable to get back into the swing of things and provided me the guidance, support and encouragement I needed to persevere and be successful in my studies," Gallagher said. "I'm very proud to finally be able to say that I'm a Tri-C graduate!"