Meet Chris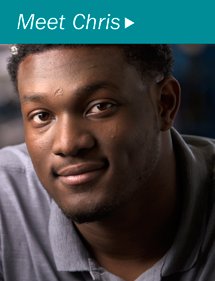 Right out of high school, Chris Groomes attended the Advanced Technology Academy through Tri-C's Workforce and Economic Development program. He got his certificate in precision machining technology in December 2013 and proceeded to enroll in the CNC Technology program. As part of his training at Tri-C, Chris was offered an internship at a local company that specializes in manufacturing components for the commercial aerospace and business jet markets. Upon completing his certificate training in CNC technology, that company hired Chris as a full-time employee.
Chris is now back at Tri-C, enrolled as a part-time student on the path to entering the Surgical Technology program. He is taking his general degree requirements so that when he enters the surgical tech program, he can focus more on the courses he will need to attain an Associate of Applied Science degree in surgical technology and go on to take the Certified Surgical Technologist Examination.
When he is not working, Chris enjoys spending time with his family, particularly his three younger brothers.