Learning for Life

Launched in 2014, the Robert Searson Learning for Life program promotes lifelong learning through engaging programs on a variety of academic and community-oriented topics organized and conducted by Tri-C faculty and guest speakers.
The series gives members of the College and community a chance to discuss topics ranging from arts, culture, wellness and current local, national and international events. Come learn with us!
2023-2024 series—In Pursuit of Happiness Lecture Series
Happiness and satisfaction with our lives is at an all time low. A study conducted by NORC at the University of Chicago in 2020 found that just 14% of adults say they're happy. While so much of many people's current unhappiness has to do with concepts out of our control, like finances, health, or the state of the world, we know there are certain things that make us feel better: our favorite song, a comfort meal and many more types of self-care.
The In Pursuit of Happiness Lecture series will investigate what brings us joy. Join faculty, staff, community members and students as we discuss the journey toward happiness and fulfillment. Each lecture will focus on one topic that can facilitate happiness in our own lives. Each session will be led by a panel of experts, either from within Tri-C or from the community. Lectures are free or low cost to attend.
Upcoming Sessions
Nature and Happiness
Wednesday, Oct. 11    |   2:30-4:30 p.m.
SLT Commons
The fields, woods and streams of Northeast Ohio offer a wealth of inspiration and excitement for outdoor enthusiasts. Few know this as well as award-winning author and Tri-C professor Andrew J. Pegman, Ed.D. The Ohio native will discuss his journey to land trophy fish, reflect on the ones that got away, and embrace the beauty and freedom of the outdoors. Hear tales of adventure in the great outdoors and how experiencing nature contributes to our happiness in this session of the 2023-2024 Robert B. Searson's Learning for Life program.
Free to attend, registration preferred. Contact Emily.Tomusko@tri-c.edu to register or with any questions.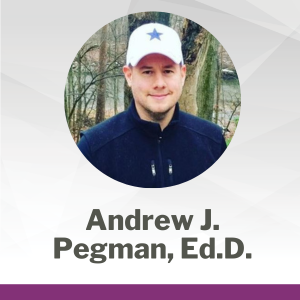 About the Presenter
Dr. Andrew J. Pegman is a professor of English at Cuyahoga Community College in Ohio. His teaching and contributions in the classroom earned him the Distinguished Faculty Award from the American Association of Community Colleges. He's been published in National Geographic, Field & Stream, Outdoor Life, TROUT, The Drake, In-Fisherman, American Angler, Kayak Angler, Paddling Magazine, The Plain Dealer, Outdoor News, the Ohio Cardinal and the House Wren (Cleveland Audubon), as well as for SUN Newspapers and Cleveland.com and others. A story he wrote for American Angler was recognized in The Best American Sports Writing 2020 as a "Notable Selection," and the Outdoor Writers of Ohio Awards awarded him first place for Magazine Writing in 2020, among his other awards for magazine, internet, and newspaper writing. He is the author of the book Outdoor Tales of Northeast Ohio, which won the 2022 Outstanding Media Achievement Award from the Outdoor Writers of Ohio.
History of Learning for Life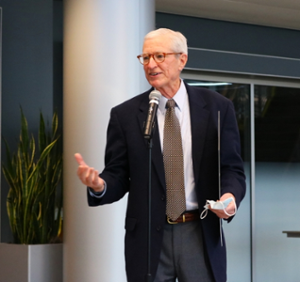 The Robert Searson Learning for Life program was originally launched in 2014 as the Year of the Brain series, which focused on understanding the complicated nature of the human brain. The series continued to expand and developed into the Learning for Life series, allowing a broader scope. Topics have varied from sustainability to lectures on current faculty and student research projects and more.
Robert Searson served as the first dean of Academic Affairs at the Westshore Campus until his retirement in 2021. He believed that Tri-C could serve as a gateway to connect and enhance the lives of people through innovative educational experiences on campus. In 2022, the Learning for Life series was renamed the Robert Searson Learning for Life series.
Mission
The Robert Searson Learning for Life program provides the College and community with enriching topics and information presented by Tri-C faculty, staff, students and guest speakers, bringing the community lectures on topics ranging from arts, culture, wellness and current local, national and international events. The series includes a variety of topics designed to improve the quality of life in our diverse community, establishing the Westshore Campus as a resource for learning and enrichment for both students and the greater community.
Archived Learning for Life Presentations
Sept. 17, 2020 A Conversation with Honest Abe
Jan. 29, 2020 The Problem with Plastic Pollution presentation