Cherelda Bell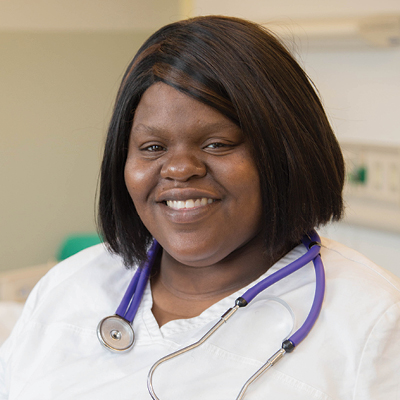 Success is contagious. Just ask Cherelda Bell.
The mother of three spent six years working toward commencement at Tri-C. She studied nights, weekends … whenever she found a free moment.

And as Bell pushed herself to achieve academically, she watched her young daughters do the same.

 "Tri-C didn't just help me," the 34-year-old Clevelander said. "It helped my whole family." Bell graduated with two degrees — an Associate of Applied Science in Nursing and an Associate of Arts. She will enroll at Cleveland State University through the RN-to-BSN program between Tri-C and CSU.

That future once seemed unattainable. Bell struggled in her first attempt at college, failing more classes than she passed. She left school and entered the workforce to support her first child. As the years quickly passed, Bell saw little prospect of career advancement, higher earnings or a better future. To change that, she chose to return to Tri-C.
"I owed it to myself, to my daughters, to give it another try," she said. Bell rebuilt her GPA and gradually increased her course load, enrolling full time after a layoff.

Wraparound student support resources made possible by the Tri-C Foundation taught Bell how to make the most of her second chance. She involved herself on campus, too, participating in student government and Black American Council.

Multiple scholarships followed, and Bell was selected as a Mandel Scholar and Eastern Campus Student of the Year.

As she poured herself into her studies, her daughters followed her example. Homework sessions became a family affair. Academics turned into a household priority. Success became the norm.

"I didn't do all of this just for myself," Bell said. "Being a mother means being a role model. I'm developing my girls. I wanted them to see what is possible if you keep working and moving forward."