Lang Lang 101 Pianists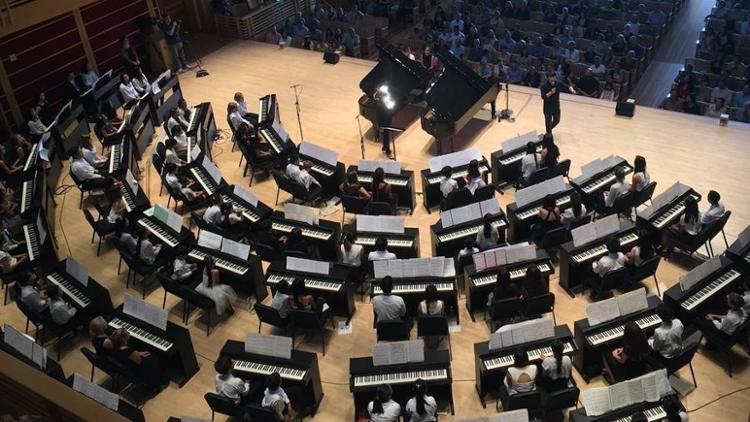 Tri-C's Classical Piano Series and the Creative Arts Academy will welcome international piano legend Lang Lang on Monday, April 29, 2024, at the Metropolitan Campus Auditorium for a special program of his renowned music education program, 101 Pianists.

Presented in partnership with the Lang Lang International Music Foundation, Roland Corporation and Steinway Piano Gallery Cleveland, this community-centered event will showcase 100 young pianists from Northeast Ohio, joining Lang Lang for a unique master class and public performance that celebrates the beauty and social nature of the piano.

The 101 Pianists series is the brainchild of Lang Lang. Its mission is to share classical music with children around the world and offer piano students a way to perform as a group in a more social setting, similar to the experience of their peers in school bands and orchestras.
"I started 101 Pianists to give piano students an opportunity to play together," Lang Lang says. "It started about 15 years ago at one of my concerts where I invited students to join me for an encore — and we had a wonderful time. So, I wanted to do more of these events as a workshop and also a performance for the community. It's now one of the key programs of my foundation."

Since its premiere in 2009, the program has inspired over 1,400 piano students in 15 cities around the world. Cleveland is privileged to be one of only five other U.S. cities to present Lang Lang's program, including Philadelphia, Los Angeles, San Francisco, Washington, D.C. and Long Island. Highlights of the 101 Pianists in Long Island can be viewed here.
Following his appearance on April 29, Lang Lang will join the Cleveland Orchestra on May 2 and 4 for performances of the Saint-Saens's Piano Concerto No. 2 at Severance Music Center.
Student Selection Process
Tri-C's Creative Arts Academy, under the direction of Steinway Artist Emanuela Friscioni, will organize the selection process and the event.

Piano instructors throughout Northeast Ohio are invited to recommend students 6 to 18 who possess a strong musical ability, have some performance experience and demonstrate an ability to work and respond in a group setting. 

The program will feature two musical selections to be performed with Lang Lang:
Brahms: Hungarian Dance No. 5 in F-Sharp Minor
Schubert: Marche Militaire No. 1, Op. 51
Two arrangements of the selected musical scores will allow piano students of all skill levels to participate in the event (see sheet music available for download below). Instructors are encouraged to recommend students as duets or individual students who will be paired with a partner. The students will perform together four hand on 50 Roland keyboards along with Lang Lang at the center of the ensemble on a Steinway concert grand piano.