Julie Brandle, President and Founder of Metis Construction Services
"For me, peer mentoring was the strongest piece. We learned together how to work through issues and bounce ideas off of each other."
Julie Brandle began Metis Construction Services, alongside partners Donna Komar and Katie Wright, and their respective spouses, as a small facilities maintenance company. When they were awarded the Acorn Alley II project in 2011, it changed the business' trajectory, and they quickly expanded.
Acorn Alley is a pedestrian-friendly development in downtown Kent that offers cobblestone walkways and a locally-owned mix of specialty shops and boutiques, art and live music, and special events throughout the year.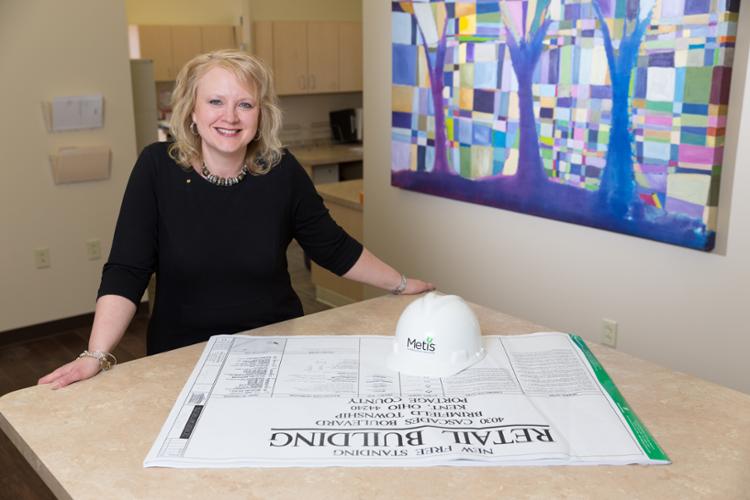 As Acorn Alley helped Metis grow, Brandle realized she needed to grow professionally, too. She had a background in sales and marketing, but did not feel as prepared to take on the financial side of business. Cuyahoga Community College's 10,000 Small Businesses program taught her how to understand her finances and create a budget. Brandle said peer mentoring was the strongest piece of the program. She and others in the program learned how to work through issues and bounce ideas off of each other.
Metis Construction Services put a growth plan in place to expand its interior renovations services for retail, restaurants and offices. Brandle graduated from 10,000 Small Businesses in 2014, and soon after, Metis earned the Smart Business Medical Mutual Pillar Award for community involvement and was featured on the HGTV show Rehab Addict for its volunteer work with the LeBron James Promise Project. It has also seen 40 percent growth and has employed 10 more employees.