Basic Computer Skills Course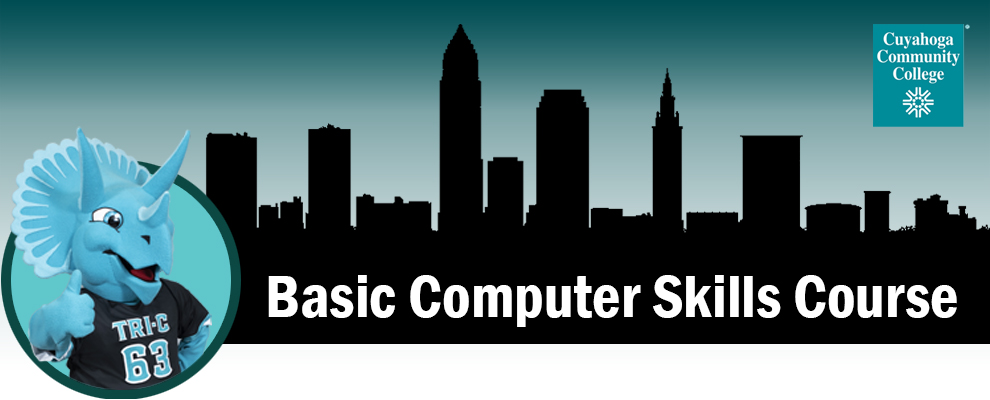 Welcome to the Basic Computer Skills Course on behalf of Cuyahoga Community College! The Basic Computer Skills Course is available in order to provide training in common technology skills that can be used in your everyday lives. While we hope the course builds technology skills right here in the Greater Cleveland and Northeast Ohio area, we welcome anyone, anywhere to take the course. Each chapter contains online modules featuring learning activities followed by a knowledge check. The course is self-paced and offered at no cost. Soon we will have a quick survey so you can let us know your thoughts on the course and how we did.
Chapter 1. Introduction to Basic Computer Skills
      a. Welcome to Basic Computer Skills Course
Chapter 2. Use a Computer
      a. Use the Mouse
      b. Identify Computing Devices
      c. Operate a Computer and Printer
Chapter 3. Use a Keyboard Effectively
      a. Explore the Keyboard
      b. Use the Keyboard
Chapter 4. Use an Operating System
      a. Explore the Windows Operating System
      b. Use Windows
Chapter 5. Use Microsoft Office Software
      a. Explore Microsoft Word
      b. Manage Your Documents
      c. Edit Your Documents
      d. Explore PowerPoint
      e. Explore Excel
Chapter 6. Use Email
      a. Exploring Email
      b. Working with Email
Chapter 7. Use the Internet
      a. Access the Internet
      b. Search the Internet
      c. Locate Credible Sources
Chapter 8. Use Video Conferencing
      a. Participate in a Video Conference
      b. Host a Video Conference
Chapter 9. Use File Management Techniques
      a. Explore File and Folder Management
      b. Create Back up Files (coming soon)
Thank you to those at Cuyahoga Community College who contributed content or technical expertise:
Aimee Pearce – Metro Campus CLE
Sarah Goode – West Campus CLE
Brittany Hanek – ICD
Standish Stewart – ITS
Stephen Kinford - ITS
Kari Vara – OLAT
Jeff Rodgers – OLAT
Karen Gray - OLAT
Arlo Graham – OLAT
Robert Pratt - OLAT
Tom Kemp - OLAT
Basic Computer Skills Course is in Beta version. The course may not run on all mobile devices. Online Learning and Academic Technology (OLAT) continues to be focused on making online content accessible for everyone. Every effort to make the BCSC accessible is being made and accessibility standards continue to be applied. If you see something that does not meet accessibility and ADA compliance, or discover a mobile device problem - please let us know at: olat@tri-c.edu!
Basic Computer Skills Course is adapted from the Basic Computer Skills MOOC by The Wisconsin Technical College Consortium INTERFACE Project. A special thanks to Kim Larson and Bonnie Tomlin of Fox Valley Technical College for their invaluable collaboration.