First Generation Students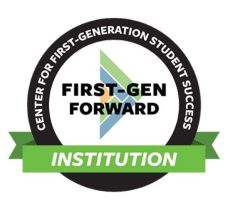 Cuyahoga Community College is a First-gen Forward Institution recognized as a higher education institution committed to first-generation student success.
Tri-C faculty and staff will be afforded multiple opportunities to engage with peer and aspirational institutions who are also creating environments that improve the experiences and outcomes of first-generation students.
Here are some resources and events for first-generation students.
Tri-C First Generation College Kick-Off
This event is Tri-C's kick-off to the NASPA First Generation College Student Celebration on Thursday, Nov. 5, at 5:30 p.m. 

Tri-C's event will include videos and information from students and staff to help promote resources to first-generation students. We will be there to answer questions, show support, and encourage you to attend the national event, which will start directly after our presentation!
National First-Generation College Celebration Day
Join DJ Faro and your first-generation peers and champions for this pre-celebration of National First-Generation College Celebration Day. Brought to you by the Council for Opportunity in Education and the Center for First-generation Student Success, this will be a fun-filled hour of music, trivia, and prizes.
This event is Thursday, Nov. 5, 6:00 p.m. - 7:00 p.m.