My Tri-C Story

Stephanie Bayne
After graduating from high school in 2011, Stephanie Bayne chose to attend Cuyahoga Community College. At first, she was a little anxious about her choice as she watched many of her friends go off to four-year colleges. But she loved the small classes and the convenience.
Explore Tri-C's Transfer Options
Josh Gatka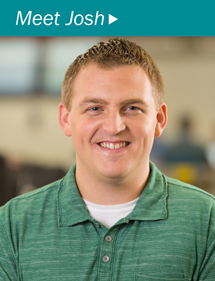 Despite having a four-year degree, Josh Gatka had a hard time finding a job. So, he enrolled at Tri-C with eyes on an associate degree in IT. As a Tri-C student, Josh took advantage of the College's Career Center and landed a job during finals week of his last semester.
Learn more about the Tri-C Career Center
Dianna Geary
After starting a family, she was ready to have a career that would allow her to be an active mom and work in a job she loved. Tri-C offered the most comprehensive two-year degree program with great hands-on experience, and had the lowest tuition per credit hour in Northeast Ohio.
Find out how you can pay for college
Chris Groomes
Right out of high school, Chris Groomes attended the Advanced Technology Academy through Tri-C's Workforce and Economic Development program. He got his certificate in precision machining technology in December 2013 and proceeded to enroll in the CNC Technology program.