Eastern Campus Art Gallery
Current Exhibit:
From Walls to Bridges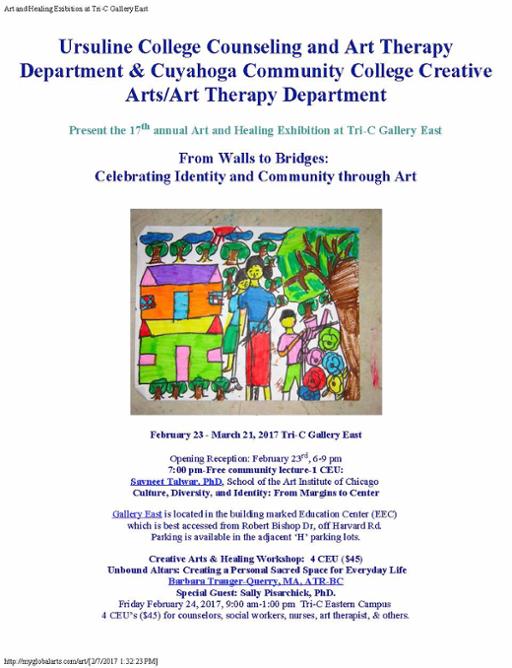 Gallery East presents the Art Therpay Dept. of CCC and Ursuline College, "From Walls to Bridges" : Celebrating Identity and Community through Art. www.myglobalarts.com/art Staged in Gallery East located at Tri-C Eastern campus, the show includes all types of media, from traditional to experimental,
Cuyahoga Community College's East Gallery from Februrary 23 to March 21, 2017. Opening Reception - Thrusday, February 23, 2017 - 6pm to 9pm
March 1, 2017 -
Greetings!
Thank you Dr. Thomson for providing a wonderful warm welcome at the Art Therapy Event held February 23! You were great! The crowd really enjoyed the evening. Thank you Amy Parks for your support and presence and to Terri Patton and Blake Cook for making the gallery look amazing. Thank you Richard for your  music, so perfect for the evening.  Click below to see some highlights of the event.  Click on the web site below for all the photos from the opening.
Also like to add that there were over 250 the night of the show that attended, and 60 for the workshop the next morning, the weather was amazing as well!
 http://http://www.myglobalarts.com/photos/tri-c-feb-event-17/
Maryann Sender
Art Therapy Faculty/Coordinator
216-987-2475