Our Restaurant

The Hospitality Management program operates a student-run restaurant operation. Alere (ah-le-ray) is the featured restaurant at The Jerry Sue Thornton Center at 2500 E. 22nd Street. The restaurant provides training for students in restaurant operations and dining room operations, which includes fine dining and restaurant buffet service. Classes in dining room operations coordinate with advanced culinary classes to provide the menu and excellent customer service.
The restaurant offers contemporary American cuisine, rooted in exacting classical technique. It reflects the individual styles of both the chef instructors and the culinary students in the respective restaurant.
Alere (ah-le-ray) (to feed, to foster, to nourish)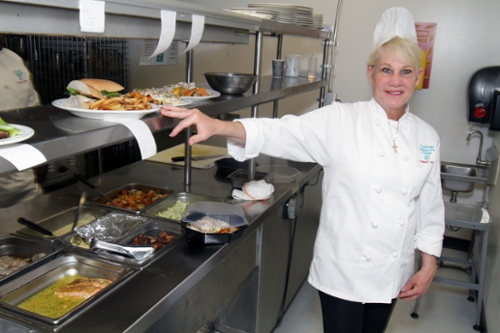 Alere serves lunch from 11:00 AM to 1:00 PM Thursdays and Fridays at

The Jerry Sue Thornton Center
2500 East 22nd St
Cleveland, Ohio 44115

Reservations can be made by calling 216-987-4080 or email Deanna.Manners@tri-c.edu no later than 10:00 am the morning of the desired day of dining.
Payment can be made by cash, credit card or My Tri-C Card
Alere' is open to the public every Thursday and Friday for the Fall semester between the dates September 28-October 19, 2017 and November 2-December 8, 2017
Chef de Cuisine $10!