PayTrain College and University® Program

Overview
In cooperation with the American Payroll Association, Corporate College presents the PayTrain College and University® program for payroll professionals. Comprised of two professional development courses, PayTrain Level 1 and PayTrain Level 2, this program is designed for all levels of payroll administration. Whether you are interested in preparing for the Fundamental Payroll Certification (FPC) or Certified Payroll Professional (CPP) certification exams, or are new to the industry and need to learn the basics of payroll, this program can help you meet your goals.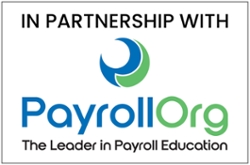 PayTrain Level 1
Learn the fundamental payroll calculations and applications necessary for individuals who are new to the payroll industry, those who support the payroll industry, and those who are preparing for the FPC or CPP certification examinations. This program will provide you with the basic knowledge and skills required to maintain payroll compliance and prevent costly penalties.

PayTrain Level 2
This is a continuation of PayTrain Level 1 and provides students with an in-depth understanding of the advanced payroll topics necessary for payroll managers and supervisors. This program is ideal for experienced payroll professionals seeking compliance training, professional development, or CPP certification preparation.  
Note: In order to sit for the CPP exam, you must have spent at least three of the last five years working in the payroll profession.
Program Highlights
A foundation of knowledge for starting or advancing your payroll career
Improved job performance by increasing accuracy and compliance
Access to a network of peers to learn about payroll practices in other organizations
Preparation for the FPC and CPP exams
Recertification Credit Hours (RCH) or Continuing Education Units (CEU) to help maintain your FPC or CPP credential
Audience
FPC and CPP exam candidates
Experienced and entry-level payroll professionals
Managers and supervisors providing strategic payroll management
Sales professionals and consultants serving the payroll industry
Systems analysts and engineers writing payroll programs
Payroll service bureau client representatives
Exam Information

Visit the APA website for information about the exam application, costs, test dates, testing locations, and more.
*Note, the exam fee is not part of the Corporate College course fee.
View Courses and Register:
Exam Prep
Study Group
Other Information