Cleveland Codes Software Developers Academy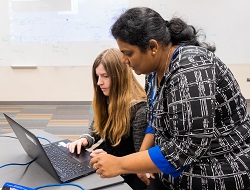 Passionate about problem-solving and creative thinking? Interested in creating new apps, building websites, or developing software? Ready for a challenging new career in technology? Then Cleveland Codes is right for you!
About the Course
Cleveland Codes is a 14-week hybrid IT Fast Track Program for $4,500. Students work through self-directed online content prior to class. Class meets Monday–Thursday from 5:30–8:30 p.m. with two days in-person and two days online via Webex. This flexible approach to learning provides students with the skills necessary to pursue a career in web application and development by learning to program in Python and understanding the fundamentals of Microsoft Azure cloud platform.

Students take four Microsoft certification exams in IT Specialist HTML/CSS (98-383), IT Specialist JavaScript (98-382), Azure Data Fundamentals & IT Specialist Databases (98-364), Azure Cloud Fundamentals (98-365) and IT Specialist Python (98-381) as part of this engaging learning experience.
Students develop key skills in:
Object-oriented programming
Back-end and front-end web development
Relational database systems and the SQL programming language
Technical interviewing and career development 
With successful completion of all program requirements, students will have the opportunity to connect with many resources to assist with internships and or job placement.

The next Cleveland Codes cohort begins on March 7, 2022.
Application Process
Applicants who score well enough on the assessment will be invited to an onsite interview and be prepared to: 
        Take an onsite pre-test (the following free resources can help you to prepare):
            C# Fundamentals for Absolute Beginners
            HTML5 & CSS3 Fundamentals: Development for Absolute Beginners
        Submit a resume and a detailed two paragraph essay discussing:
            Why do you want to enter the field of Software Development?
            Why do you believe you would succeed in it?
        Participate in a brief behavioral style interview

Applicants will be notified of their acceptance by email after completing step three. Applicants who do not meet entrance requirements will be invited to join alternative programs in the Tri-C IT Center of Excellence.
Financing Your Future
Once you receive an acceptance notification, you may officially enroll into Cleveland Codes. The course cost is $4,500 and covers all program supplies, certification exams, and instruction.
Course Payment Methods:
Submit a one-time payment in the full amount at the time of enrollment
Set up an installment plan by working with the Tri-C Workforce Enrollment Center
Learn if you qualify for a workforce training grant through Ohio Means Jobs
Apply for a workforce scholarship through Tri-C
Have you or your family experienced financial hardship due to the COVID-19 pandemic? Cuyahoga Community College's Full Tuition Assistance program can help. See if you qualify.
See which states this program meets licensure/certification requirements.