Blockchain Technology
Start a New Career as a Blockchain Developer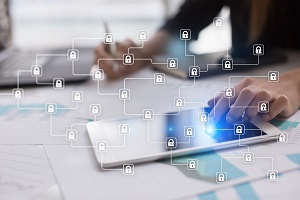 A blockchain embeds records in digital code and stores them in transparent, shared databases where they are protected from deletion, tampering and revision. Every agreement, process, task and payment has a digital record and signature that can be identified, validated, stored and shared. Many industries — including banking, financial services, retail and logistics —  already use blockchain technology for their transactions.
Check out the article about Blockchain in the Tri-C Times Magazine.
Benefits and Features
Two eight-week online blockchain technology courses.
Hands-on, real-world experience through practice, problem-solving and mentoring.
Blockchain Applications course includes capstone project with mentor from IBM — a leader in  blockchain technology and solutions.
Students work in teams to complete capstone projects.
Blockchain Courses
IT-1815: Introduction to Blockchain
This three-credit course covers blockchain terminology, concepts, design and development fundamentals. The course includes both lecture and laboratory hours to give students hands-on experience working with blockchain technology.

IT-2815 Special Topics: Blockchain Applications
Students in this three-credit course continue to discover the building blocks of blockchain technology while examining and creating blockchain applications. The course includes both lecture and laboratory hours. Students work in teams to complete a real-world capstone project with support from an IBM mentor.
To register for either course, you must first apply to Tri-C® and then call 216-987-4179 to register for a specific course.
Course/Program Outcomes
Understanding of key aspects of blockchain technology and programming.
Real-world, hands-on experience via IBM capstone project (Blockchain Applications).