Lean and Lean Six Sigma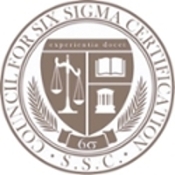 Lean Six Sigma (LSS) is a business management technique designed to systematically increase business productivity by identifying and eliminating waste. The Lean and LSS tools and techniques we provide drive process improvement and achieve measureable, bottom-line results.  Implementing LSS helps build a strong organization focused on quality and process improvement. 
All of our classes are taught by Master Black Belts, who have more than 25 years of experience.  They are with you throughout your entire LSS journey and provide you indiviualized coaching for your LSS project, which is invaluable.
Scholarships may be available to those who qualify.  Please call 216-987-4931 for more information.
Our Blended-Learning Approach
Our powerful blended-learning approach combines live instruction, virtual learning, and online modules to create courses that are more effective, efficient and affordable than traditional training methods. Our library of courses provides compelling interactivity with video, graphics, audio and self-assessments. 
Participants will receive their online access two weeks before the live instruction.
View Courses and Register:
Lean Six Sigma
Our Lean Six Sigma program is blended-learning and each certificate builds off each other.  The Yellow Belt is a pre-requisite for the Green Belt and the Green Belt is a pre-requisite for the Black Belt.  Learn more about the certification belts.
Schedule Details:
2021-2022 Schedule Details:
Grade and Completion Policy: Lean Six Sigma Certification
Participants are required to complete all assigned course modules with an 80% or better and utilize project coaching hours (where applicable) within 30 days after the last classroom session. Exam completion and course projects must be accomplished within 60 days of the last classroom session.
Corporate College Certificate Programs
Take your career to the next level with the following certificate programs that combine multiple classes into one certificate.
Lean
Learn about Lean with the below introductory courses.
LeanOhio
Corporate College is an official LeanOhio – Transforming the Public Sector Boot Camp provider. The mission of LeanOhio is to make government services in Ohio simpler, faster, better, and less costly. Using continuous improvement methods such as Lean and Six Sigma, Ohio' state agencies are cutting red tape, removing inefficiencies, improving customer service, and achieving measureable results.
Process Improvement
Supply Chain
Online Lean and Lean Six Sigma Offerings
*Course access obtained via email within two business days of registration.
Other Information
Learn More: