00
00
:
00
:
00
until JazzFest
days
hours
minutes
seconds









Outdoor Festival Features
Outdoor Festival Features
The 44th annual festival will take place June 22-24 and features outdoor entertainment under the GE Chandelier at Playhouse Square during the festival weekend. The streets are closed in the district to allow for concerts, shopping, food and beverage vendors, street performers and much more.
Admission to this area is free and open to all ages. All outdoor lineup and schedules are subject to change. Learn more about each feature below!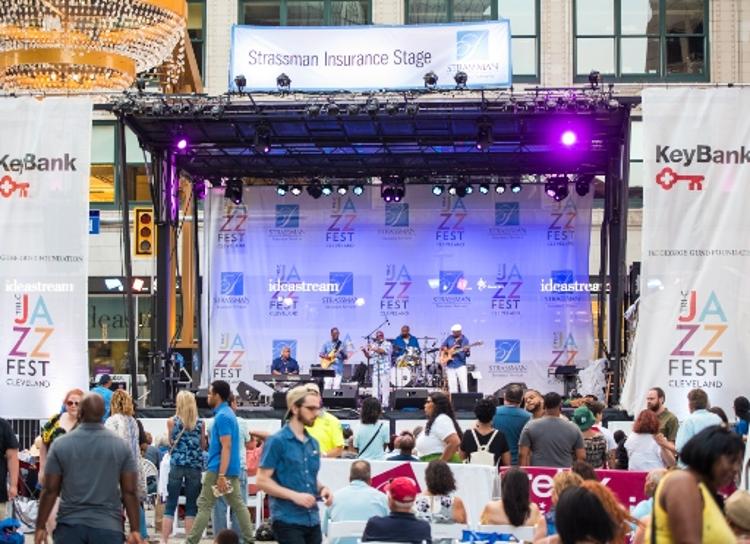 Strassman Insurance Stage - Outdoor Lineup
Tri-C JazzFest Cleveland, presented by KeyBank, will feature local and regional bands to play the Strassman Insurance Outdoor Stage at Playhouse Square as part of the festival's 44th season. 
A committee of music industry experts has selected the groups for the stage lineup. A variety of musical genres will be considered, ranging from jazz, to blues, R&B, funk, gospel, jam band and reggae.  
Fourteen acts will ultimately take the stage between 3 p.m. and midnight on Friday and Saturday of the festival weekend. Here is the Strassman Insurance Outdoor Stage lineup:
Friday, June 23, 2023
1. Reggie Kelly 

Reggie Kelly headlines at premier jazz rooms, festivals, and concert halls. He opened for Najee at Nautica and Angie Stone at the House of Blues. His repertoire includes fresh arrangements of the American Songbook and familiar jazz classics known throughout the world.  

3 - 3:45 p.m.

2. Ernie Krivda and the Fat Tuesday Big Band

Cleveland Jazz Legend Krivda has been the recipient of many awards including the Cleveland Arts Prize and Free Times Readers Poll for Best Jazz Act, Best Swing Big Band and Best Horn Player. He has also won The Editors Choice of ClevelandSearch.com, as The City's Best Instrumentalist. The Fat Tuesday Big Band is one of the hardest-swinging big bands in the region.

4:15 - 5 p.m.

3. David Gulley and the Cleveland Chorale

David Gulley has traveled throughout Europe singing and playing with Gospel Connection. He is also a model and actor, seen in movies and commercials.  The Cleveland Chorale features singers from several Cleveland churches and appears in special presentations all over Northeast Ohio.

5:30 - 6:15 p.m.

4. Ronell Regis 

Ronell Regis is a saxophonist and composer born into the Flatbush area of Brooklyn, New York. He then moved to Atlanta, GA where he attended Tri-Cities High School. Ronell's musical compositions reflect the uplifting music of the island of Grenada, West Indies.

6:45 - 7:30 p.m.

5. Samba da Cidade

Samba da Cidade a Cleveland-based samba school, was formed in an effort to unite the community around music during the pandemic. The group performs samba from Brazil as well as other popular rhythms from South America and abroad. The mission of Samba da Cidade is to provide quality education and exciting performances in the community.

8 - 8:45 p.m.

6. CB4

Christopher Burge-tenor saxophone

David Thomas-piano

Kip Reed-bass

Reggie Jackson-drums

The members of CB4 (Christopher Burge, David Thomas, Kip Reed and Reggie Jackson) have regularly performed as sidemen to many of the best artists in the region for decades, and have developed a tight group sound all their own.

The quartet, led by saxophonist Christopher Burge, plays melodic, groove-oriented, and highly personal interpretations of American Songbook, Jazz, World, and Pop Standards, as well as originals. 

9:15 - 10 p.m.

7. Carlos Jones and the P.L.U.S. Band

Carlos Jones has been entertaining audiences for more than 35 years, first as a member of the reggae group "I-Tal," then with the legendary "First Light," before finally pursuing a solo career with his current group – the Peace, Love, Unity Syndicate (aka "The P.L.U.S. Band"). Choosing to focus on bringing a positive message with his music, Carlos continues to win a diverse group of new fans everywhere he plays.

Carlos Jones and the P.L.U.S. Band will be rockin' the house with their unique brand of high-energy "put yer dancin' shoes on" reggae.

10:30 p.m. - midnight
Saturday, June 24, 2023
1. Thomas Cikra Schinabeck 

Thomas Schinabeck is an alumnus of the JazzFest Academy at Tri-C and attends Peabody conservatory, studying with the likes of Sean Jones and Quincy Philips. The band will play Thomas's original compositions feature some of the best musicians in Cleveland and his peers at Peabody.

3 - 3:45 p.m.

2. Cleveland Jazz Orchestra

The Cleveland Jazz Orchestra has been Northeast Ohio's premier jazz voice since 1985. Led by award-winning composer and trombonist Paul Ferguson, the CJO presents "the best jazz you've ever heard and the best jazz you've never heard."

4:15 - 5 p.m.

3. Da Land Brass Band

Da Land Brass Band was formed in 2016 under the leadership of William C. Washington, Kyle Sherepita, Nathan Hestley, and Liam Smith. Featuring a modern take on New Orleans street bands with high-energy funk, they have the versatility to satisfy any audience. You can find Da Land Brass Band bringing their infectious grooves and celebratory attitude all over the city.

5:30 - 6:15 p.m.

4. Tommy Lehman 

Trumpeter Tommy Lehman is graduate of Tri-C Jazz Studies program, The Hartt School of Music, and is currently studying for his Masters' degree at Cleveland State University. He has played professionally in the greater Northeast Ohio region for the last ten years, regularly recording and touring with Nathan-Paul Davis, Chris Coles, Nine Lives Project, Bassel and Dan Wilson. In December 2022, Lehman released an EP entitled Uplift, which features a quartet with Smokeface, Gabe Jones and Andru Senpai on keys.

6:45 - 7:30 p.m.

5. Nathan-Paul & The Admirables

The Admirables is a funky soul band based out of Akron, Ohio. The raw energy of the Admirables is a force to be reckoned with. Front man Nathan-Paul Davis engages the crowd with his vocals like a Baptist preacher in a packed church, encouraging the crowd to get up and dance until they drop. "It's a big soul party and everybody's welcome, so come as you are!"

8 - 8:45 p.m.

6. Becky Boyd and the Groove Train

Becky Boyd has been playing the Cleveland club scene for more than 40 years. Her vocals are outstanding, combining great tone, with tremendous feel. "Becky Boyd…possesses a powerful blues/jazz voice that's forceful, sensuous and as clear as spring water." --- Steve Byrne, Scene Magazine
"Becky Boyd is a local pro, who makes the magic happen." --- Harmonica Blue, Strange Brew Magazine
Becky Boyd & The Groove Train consists of Boyd on vocals, Jim Wall on drums, Alfredo Guerrieri on bass, and Chris Hanna on keyboards.

9:15 -10 p.m.

7. Sammy DeLeon Y Su Orquesta

Sammy de León is one of the most recognized Latin bandleaders in Northern Ohio. He plays the timbales, a twin set of metal-encased, single-headed drums with a cowbell and a cymbal on the side. He began to play professionally at age 13 and has since played alongside the greatest of the genre: Tito Puente and Grán Combo de Puerto Rico, among others.

For the past decade, he has fronted his own band, Sammy De León y Su Orquesta, which plays a broad spectrum of dance music styles, and has sustained a multi-cultural audience.

10:30 p.m. - midnight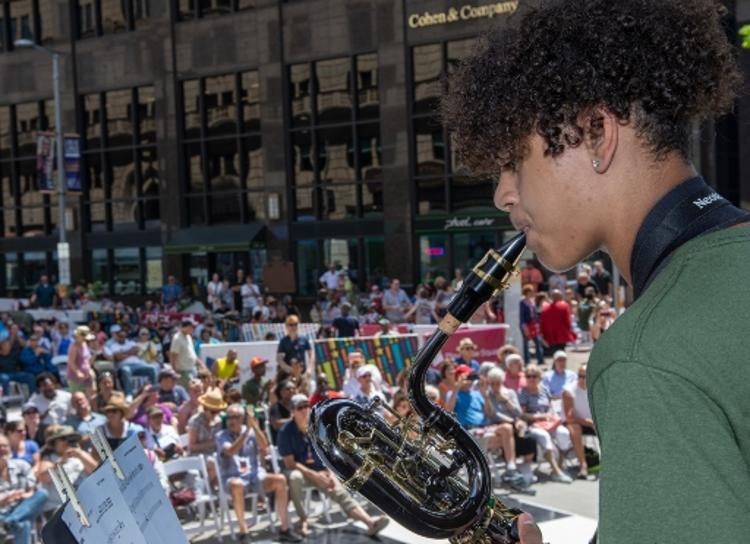 William M. Weiss Foundation Next Gen Stage
Jazz education is extremely important to us (it's part of our mission)! This stage, located on the U.S. Bank plaza, showcases the future of jazz featuring performances by the Tri-C JazzFest Academy camp students, Spirit of the Groove ensembles and many former students who've passed through our program throughout the years. Here is the William M. Weiss Foundation Next Gen Outdoor Stage lineup:
Friday, June 23
3:45 p.m.: JazzFest Camp Combo, Johnny Cochran, director
5 p.m.: JazzFest Camp Combo, Bryan Thomas, director
6:15 p.m.: Colin Palmieri Quartet
7:30 p.m.: Spirit of the Groove with Dominick Farinacci & Braxton Cook
8:45 p.m.: JazzFest Camp Combo, Anthony Taddeo, director
10 p.m.: JazzFest Camp Big Band I, Dave Sterner, director
Saturday, June 24
3:45 p.m.: JazzFest Camp Combo, Nathan-Paul Davis, director
              JazzFest Camp Guitar Ensemble, Jonah Ferguson, director
5 p.m.: Drew Hoschar & Ad Hoc
6:15 p.m.: JazzFest Camp Combo, Grant Heineman, director
7:30 p.m.: Tanline! Grant Heineman
8:45 p.m.: JazzFest Camp Big Band II, TBD, director
10 p.m.: Ava Preston Quartet
Kids Club
The Kids Club will be located in a covered tent. Children can enjoy musical arts and crafts, drum lessons, face painting and more. It's fun for the whole family!
The Jazz Kitchen
Inside this tent, festivalgoers will get to experience cooking demos, tasty food samples, and interviews with the JazzFest artists. The Tri-C Hospitality Management Center will provide tips on creating great dishes, and in between demos, artists will be interviewed on various topics.
This year's schedule coming soon!
Other Festival Attractions
There's more to JazzFest than just music. Festivalgoers will enjoy plenty of food and beverage options —including our beer tent, shopping vendors, street performers, games, dancing under the GE Chandelier and so much more.
Vendors and Food Trucks
| | | |
| --- | --- | --- |
| Dawg Bowl Food Truck | Food (Truck) | Food truck |
| Diversified Funk | Artisan/Crafts | Merchandise celebrating the history of African-Americans in Music |
| Elyce Fashions and Accessories | Retail/Promotional | Afro centric clothing |
| Feelin Good Ice Cream | Food (Truck) | Ice cream and shave ice truck |
| KandyDollKloset | Retail/Promotional | Women's clothing boutique |
| Keenya Beauty Plus Wellness Institute | Other  | Medical medspa |
| Kernels by Chrissie | Food (Stand) | Local, hand-crafted gourmet popcorn snacks and treats. |
| Molloy's BBQ | Food (Stand) | BBQ food items such as ribs, beef brisket and pulled pork. |
| Metro45 Cafe & Catering | Food (Truck) | A collection of Social Enterprises of Lutheran Metropolitan Ministry that provides life changing services to those most in need through feeding the homeless and offering culinary training to empower and support change. |
| Natural Needs Products | Artisan/Crafts | Natural products like shea butter, dental floss, wood combs, rosewater, detox soap, |
| New Seasons Production | Information | Entertainment promotions |
| Pink Zebra | Other (Please Specify) | Home fragrance  |
| Playhouse Square-Inside Sales | Retail/Promotional | Performing arts center |
| Positive Vibes by Ty, LLC | Retail/Promotional | Positive Vibes by Ty is a specialty gifting business that provides custom journals and gifts that each include a positive and inspirational message. |
| Rock Paper Cigars | Artisan/Crafts | If you are looking for a fun and unique experience to add to your event, look no further.  Rock Paper Cigars will hand roll cigars at your event while educating and entertaining your guests with all aspects of the cigar-making process. Our mission is to create unforgettable celebratory memories, fellowship, and togetherness at your event. |
| Samurai Dynasty | Food (Truck) | Japanese and hibachi food truck |
| The Benevolent Butcher | Food (Truck) | Plant-based food truck that puts a vegan spin on the classics all while giving back a portion of sales to area animal welfare organizations |
| The Cedar Grill | Food (Truck) | Mediterranean & American foods |
| The Pierogi Lady | Food (Stand) | We hand make over 150 varieties of pierogi. We pride ourselves on being like grandma used to make. |
| YumVillage | Food (Truck) | Afro-Caribbean cuisine |