Vocal Jazz Day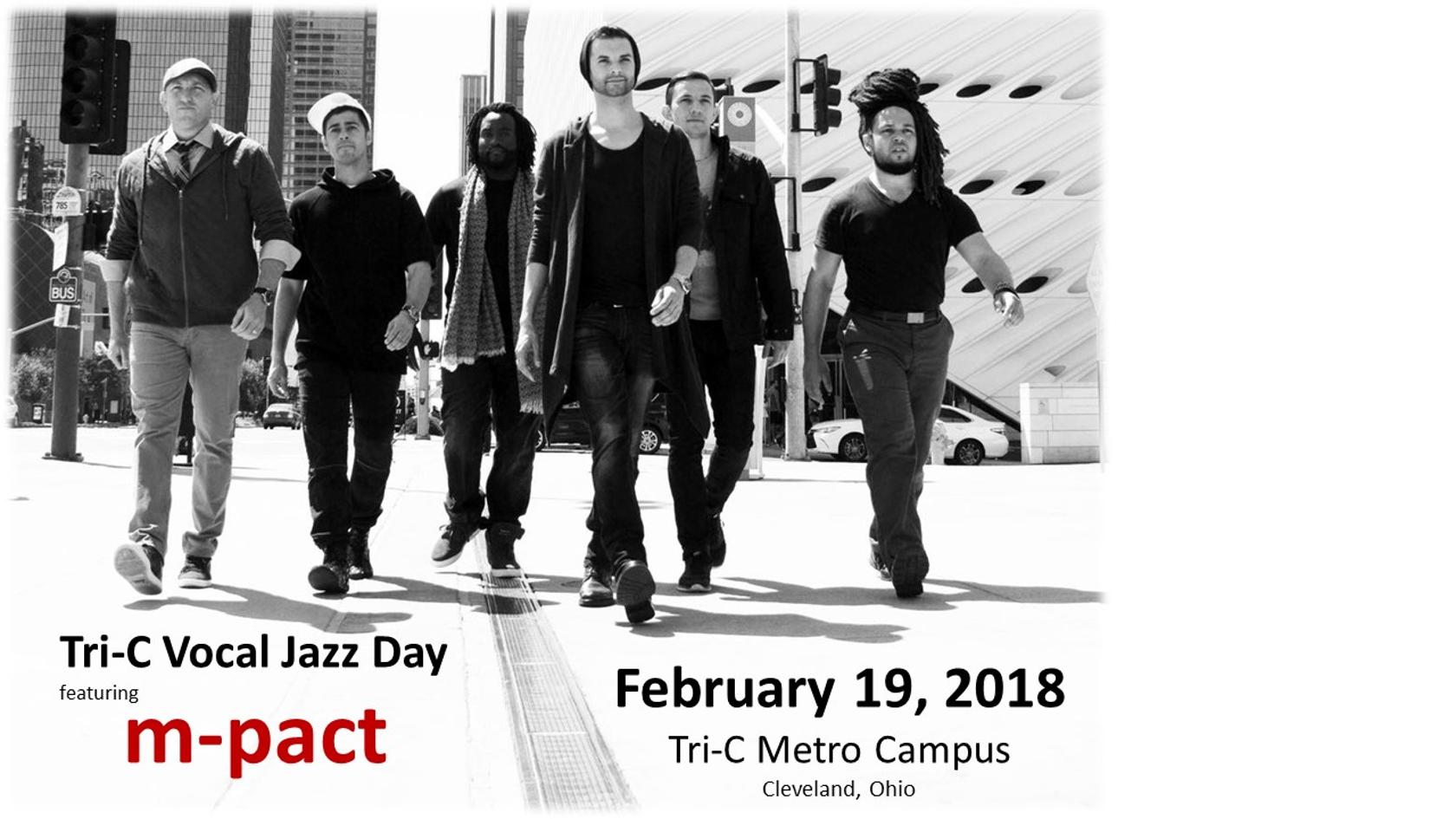 A Day Singers Can't Afford to Miss!
Don't miss out on this great opportunity for your vocal groups to participate in the Tri-C DownBeat Vocal Jazz Festival at the Tri-C Metro Campus on President's Day, Monday, February 19, 2018. Featuring the award-winning a cappella group m-pact, this day will be filled with performances and adjudications, workshops and a fantastic culminating evening concert. This singing celebration is open to all vocal groups. New this year is the addition of Spirit of the Groove providing an experience in gospel and soulful commercial singing.

SCHEDULE: February 19, 2018
10 a.m.: Ensemble Performances adjudicated by m-pact
12:30 p.m.: Lunch (provided by Tri-C JazzFest with registration)
1 p.m.: Ensemble Performances adjudicated by m-pact
3:40 p.m.: Workshop with Spirit of the Groove
4:30 p.m.: Master Class with m-pact Solo/Ensemble Singing
5:30 p.m.: Q & A with m-pact
5:45 p.m.: Dinner (provided by Tri-C JazzFest with registration)
7 p.m.: CONCERT
REGISTRATION:
Ensemble registration fee is $180.


Registration fee includes a 20-minute performance/adjudication with members of m-pact, workshops, evening concert, AND lunch and dinner for your ensemble! (one registration fee per ensemble).


Vocal groups will receive a recording of their adjudicated performance following the event. It is encouraged for singers to attend the adjudications/performances of all groups for the optimum educational experience.


Groups are scheduled for performance/adjudication times based on their registration date (first come-first serve). Groups with special scheduling requests must communicate that upon registering. If your ensemble prefers a warm up time prior to their adjudicated performance, please include this in your registration request.
 For information or to register your group email Michael.Shirtz@tri-c.edu or call 216-987-4193.
 We hope you will join us for this inspiring musical experience for you and your singers!
 Jazz Lives Here!