Online Courses
Which courses are offered online this summer?
Advanced Machining Technology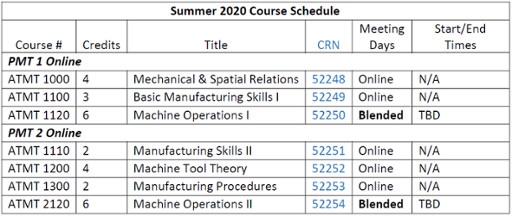 Precision Machining – Level One (Hybrid)                        May 26 - July 31

Precision Machining – Level Two (Hybrid)                       May 26 - July 31

Year One Machining Apprenticeship (Online)                   May 26 - July 31


NIMS Prep – Includes proctored NIMS exam (Online)      May 26 - July 31
Noncredit Course
10 weeks/three days per week/two hours per day = 30 hours

In collaboration with the National Institute for Metalworking Skills (NIMS), Tri-C now offers an online NIMS Prep course with credentialed instructors. NIMS is the nation's only distinction for excellence in metalworking training, with industry-written, industry-approved skills standards.
Online simulations combined with virtual hands-on projects
Complete the program to earn an industry-recognized credential:* Machining Level I – Safety, Materials and Measurement
*Worth 12 credential points toward a high school diploma


Tick-Tock Technology - Learn by Doing

Non-Credit Course Online format​ $199​
12:00-2:00pm  (Monday, Wednesday, Friday)​
5 weeks
Ages: 13 and up​
​
D.I.Y. That's right do-it-yourself! Learn by building a digital alarm clock with a hands-on kit delivered directly to you. Develop an understanding of the functions of basic mechanical and electronic principles electronics.  Students will learn wide time functions of the clock: time set, alarm set, countdown timer, stopwatch, counter, hourly chime, precise time display, and 24 hours format.​
schematics ​
blueprint reading ​
soldering ​
hands-on learning
Tick-Tock-Tech -- CRN: 33129               June 8 - July 10, 2020 ​
Tick-Tock-Tech -- CRN: 33130               June 29 - July 31, 2020​
Industrial Maintenance
| | | | |
| --- | --- | --- | --- |
| ISET-2210 | Commercial Wiring  | June 8 – July 29 | MTC |
| ISET-1310 | Mechanical Power Transmission  | May 26 – June 28 | MTC |
| ISET-1320 | Fundamentals of Fluid Power  | June 29 – Aug. 2 | MTC |
| ISET-1340 | Industrial Piping and Tubing  | June 29 – Aug. 2 | MTC |
| ISET-2990  | Reliability-Centered Maintenance | May 26 – June 28 | MTC |
| ISET-2220 | Fundamentals of Electronics and Instrumentation | June 29 – Aug. 2 | MTC |
| ISET-2520 | PLC III | June 8 – Aug. 2 | MTC |
| ISET-2450 | HVAC II | June 8 – Aug. 2 | MTC |
| ISET-2200 | Industrial Motor Controls | June 8 – Aug. 2 | MTC |
| ISET-1300 | Mechanical/Elec Print Reading | May 26 – Aug. 2 | MTC |
| ISET-1420 | Applied Electricity II | June 8 – Aug. 2 | MTC |
| ISET-1101 | Welding Print Reading | May 26 – June 28 | ATTC |
| ISET-2120 | Stick Welding | May 26 – Aug. 2 | ATTC |
| ISET-2131 | Oxy-Fuel | May 26 – Aug. 2 | ATTC |
| ISET-2100 | MIG Welding | May 26 – Aug. 2 | ATTC |
| ISET-2110 | TIG Welding | May 26 – Aug. 2 | ATTC |