Upcoming Events and Job Postings
Events
Veterans Appreciation Basketball Game
Tri-C is hosting a doubleheader basketball game against Bryant and Stratton College on Jan. 11 at the Metropolitan Campus Gymnasium.
Veterans are encouraged to come and get free popcorn and concessions for the game. The event will kick off with a short reading and address.
5:30 p.m. - Women's basketball game
7:30 p.m. - Men's basketball game
Job Opportunities
Bay Village Police Hiring Entry-Level Police Officer
The City of Bay Village is currently holding a competitive examination for an open police officer position. To be considered, the Entry Level Police Officer Examination must take place with the National Testing Network by Jan. 31.
Veterans are preferred. 
Qualifications:
Age: 21-40 years old at time of appointment
Education: High school diploma or equivalent
Job Description: Additional qualifications
All applicants must complete a City of Bay Village Civil Service application by Jan. 31.
Field Representative for Census Bureau
Veterans will be able to work from the end of the spring semester to the beginning of the fall semester (AHS ends on Sept. 17), if they are available at least 25 hours a week. However, they have the option of working 40 hours. The veterans will need to be available to work days, evenings and weekends. Control your workload and schedule.
For more information, email robert.f.shields.jr@census.gov.
Ohio Means Jobs Resources and Locations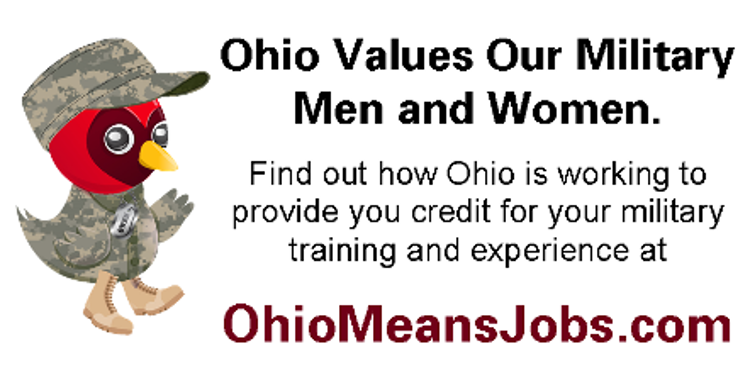 NEW LOCATION
OhioMeansJobs | Cuyahoga County
A proud of partner of the American Job Center Network
1910 Carnegie Ave., Cleveland, OH 44115
e-mail (preferred): joshua.collins@jtsohio.gov
Desk: 216-898-6102
Fax: 216-898-1497
Monthly Events
September: Welcome Week
October: Veteran and Military-Connected Services' spin on Coffee, Conversation and Connection 
November: Service Member Appreciation Event 
December: Popcorn/Movie Day
January: Welcome Week Second Edition
February: Mental Wellness and Resiliency
March: Budgeting and Building Emergency Savings/Financial Literacy
April: VA Healthcare (Access to Claim Services)
May: Memorial Day 
June: Welcome Week Activities
July: Coffee, Conversation and Connection