Upcoming Events & Job Postings
Invitation:  JVCOCC 93rd Anniversary Luncheon: You are invited the Joint Veterans Council of Cuyahoga County Officers Installation and Veteran of the Year Award, scheduled for Saturday, February 17, 2018 at the Embassy Suites Cleveland-Independence Hotel at 5800 Rockside Woods Blvd., Independence, OH.  The event will begin at 12 noon, preceded by a social hour at 11 AM. For ticket information, check Eventbrite
Women Veterans Save the Date:  Join us for the Inaugural Women Veterans Resource Expo Friday, March 2, 2018 at Cuyahoga Community College Eastern Campus. See Link to reserve your spot.
Ohio Means Jobs Resources & Locations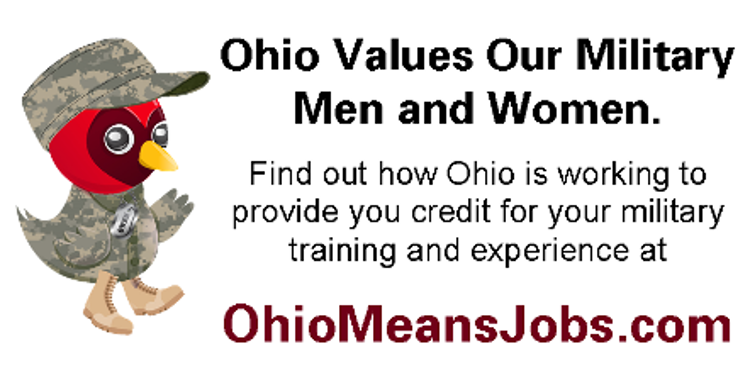 Tri-C constantly gets job updates from Joshua Collins, Disabled Veterans Outreach Specialist located in Brookpark. We send these out to students weekly through Tri-C email. We encourage you to reach out to him if you do not receive our emails for a plethora of services and opportunities.
Joshua Collins
Disabled Veterans Outreach Specialist- Region 3
Office of Workforce Development
Ohio Dept. of Job & Family Services
11699 BrookparkRoad
Parma, OH 44130 (216)898-6102
joshua.collins@jfs.ohio.gov
Cuyahoga County Location Information & Hours
Brookpark

11699 Brookpark Road
Parma, OH 44130
Mon. thru Fr: 8:00am-5:00pm
P: 216-898-1366

Old Brooklyn

4261 Fulton Parkway and Memphis
Cleveland, OH 44144
Mon. thru Fri.: 8:00am-4:00pm
P: 216-635-4142

Quincy Place


8111 Quincy Avenue
Cleveland, OH 44104
Mon. thru Fri.:8:00am- 4:00pm
P: 216-561-5503
Websites to Review for Job Listings