Upcoming Events and Job Postings
Events & Opportunities
FIRE ACADEMY SCHOLARSHIP CLIMB
Sunday, Oct. 23 at 11 a.m. Columbia Station Football Field
14168 W. River Rd.
Columbia Station, OH 44028

Try to complete 100 flights in honor of Brett and to raise money for his Fire Training Academy Scholarship Fund at Cuyahoga Community College. New this year will be a 1k charity run and walk.
$10 donation is requested for participation.
All money raised will be donated to the scholarship.
Supply Chain, Logistics Technology and Warehouse Certification Program
The Tri-C Transportation Innovation Center and BridgePort Group, LLC partnership was created to help bridge the supply chain skills gap to compete globally. In order to win, you need the right people, with the right skills, in the right jobs. This course is designed to help you win in the 21st Century workforce!

The 8-week certification program starts Monday, September 26th and ends Thursday, November 17th. The classes are held from 10am - 2pm Monday and Wednesday; or 12pm - 4pm Tuesday and Thursday. An overview of the competency-based learning and interactive training program is listed below:

• Learn the basics of global supply chain and the technology needed to manage logistics
• Understand warehouse management systems for receiving, stocking, and distribution
• Learn the process for managing hazardous materials and safety planning
• Learn the basics of artificial intelligence, RFID, OCR bar code scanning, and EPC technology
• Gain an understanding of various types of forklifts and warehouse equipment in a lab environment
• Gain a general knowledge of drone technology and its warehouse and logistics applications
• Develop teamwork, collaboration, and customer service skills
Students can expect the opportunity to earn the following certifications and job placement assistance:
• Tuition Assistance
• Manufacturing Skill Standards (MSSC) Certified Logistics Associate (CLA)
• Manufacturing Skill Standards (MSSC)Certified Logistics Technology (CLT)
• Forklift Operator
• OSHA – 10 Safety Certificate
• Red Cross First Aid/CPR/AED Certificate
• Tri-C Certificate of Completion
• Resume Writing and Career Coaching

Register: https://cpe.tri-c.edu/search/publicCourseSearchDetails.do?method=load&courseId=2435738&_ga=2.75487830.593080812.1617201693-1183714732.1584458128

Contact: Marykate Hammer: mhammer@bridgeportgroup.solutions
Ohio Means Jobs Resources & Locations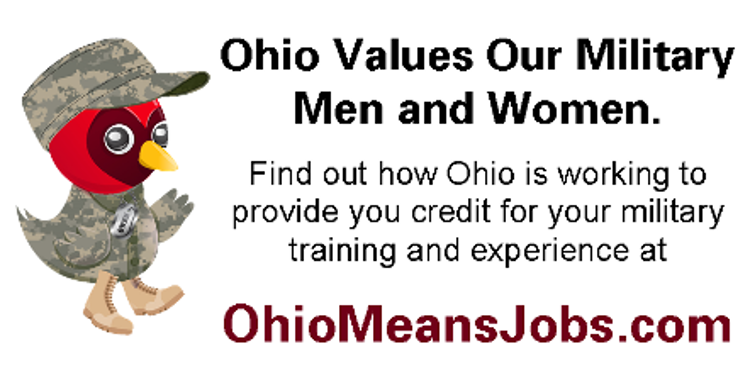 NEW LOCATION
OhioMeansJobs | Cuyahoga County
A proud of partner of the American Job Center Network
1910 Carnegie Ave. Cleveland, Ohio 44115
e-mail (preferred): joshua.collins@jtsohio.gov
Desk:(216)898-6102
Fax: (216)898-1497
Monthly Events
September:  Welcome Week.
October:  VMCS' spin on CCC - Coffee, Conversation, and Connection 
November:  Servicemember appreciation event 
December:  Popcorn/Movie Day.
January:  Welcome week second edition.
February:  Mental Wellness and Resiliency. 
March:  Budgeting and Building Emergency Savings/Financial Literacy
April:      Healthcare -- VA Healthcare (Access to Claim Services).
May:   Memorial Day 
June:  Welcome week activities.
July:  Coffee, Conversation, and Connection