Upcoming Events and Job Postings
Job Leads
Sheet Metal Apprenticeship – Tri-C College Credit
Sheetmetaltraining.org
DATES:
Monday, 13th December
Monday, 10th January
Monday, 14th February 2022
Monday, 14th March 2022
11:30-AM to 6:00PM
Sheet Metal Workers' Local #33 Training Center
12525 Corporate Drive, Parma, OH 44130
Bring $10 for application fee, a photo ID, and copy of your high school diploma or GED.
The Sheet Metal Workers Joint Apprenticeship and Training Committee are accepting applications for the apprenticeship program on the 2nd Monday of every month.
QUALIFICATIONS AND REQUIREMENTS
Be at least 17 years of age (Photo ID required)
Physical ability to perform work of the trade (lifting, carrying, installing using ladders and various heights, using hand or power tools, thinking for oneself and being productive without constant supervision)
High school diploma or GED
Written examination
Oral interview
$10 application fee
ACTIVITIES
Work with steel and other materials in heating, ventilating, and air conditioning systems. Perform testing, adjusting, and balancing of HVAC systems.
APPRENTICESHIP
5 year program
Minimum of 8000 hours of on-the-job training
Minimum of 144 hours of related technical instruction per year
Probationary period of 1 year
Indentured to the Cleveland Joint Apprenticeship and Training Committee and assigned to a sheet metal contractor
College credit received
After completing the apprenticeship and training, you may continue your training and become an independent HVAC inspector, open your own business, specialize in other training like detailing or welding, and there are many more opportunities as well.
PepsiCo Military Veteran Community
Thank you for your interest in PepsiCo! (avature.net)
PepsiCo has a long legacy of military hiring and remains committed to our veterans. Integrity, a drive for results, and exemplary teamwork and collaboration are traits we see again and again in our military and veterans. This makes people who have served—and are serving—in our armed forces a perfect fit for PepsiCo.

Our commitment to providing opportunities to military hires isn't just in the name of service—it's because they contribute to the success of our business. We need inspiring leaders, motivators and innovators like our military and veterans to drive our business forward. This is why we created VALOR, an employee resource group with a mission to recognize, appreciate and support military, veterans, their families and our communities and to strengthen PepsiCo's role as a leading military and business partner.
Then send an email to 
nick.garner.contractor@pepsico.com
  including the following and Nick will notify the appropriate recruiting team that they have a veteran applicant so they have visibility.  
Exact name of the position applied for including the job number, as listed in the job description
Exact location of the position applied for, as listed in the job description
The email address used on the job application
Ohio Means Jobs Resources & Locations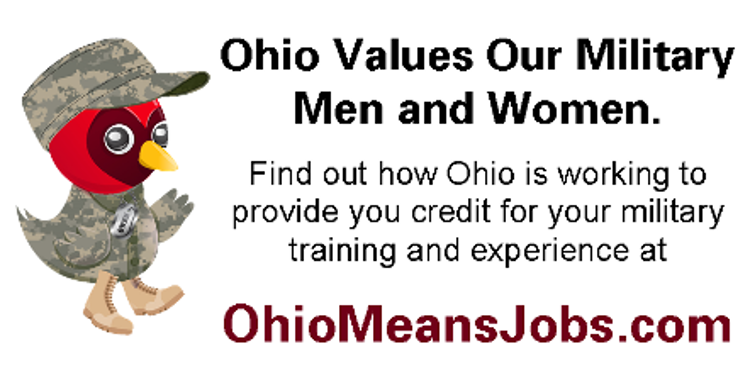 NEW LOCATION
OhioMeansJobs | Cuyahoga County
A proud of partner of the American Job Center Network
1910 Carnegie Ave. Cleveland, Ohio 44115
e-mail (preferred): joshua.collins@jtsohio.gov
Desk:(216)898-6102
Fax: (216)898-1497
Website's to Review for Job Listings