Tri-C Nursing Dean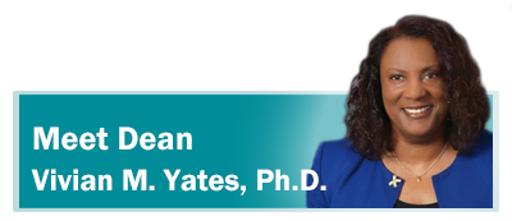 Vivian M. Yates, a nursing administrator and faculty member with more than 30 years of clinical and educational experience, is the dean of nursing at Cuyahoga Community College (Tri-C®). She has held faculty and administrative positions in bachelor's, associate and practical nursing programs and served with a national accrediting organization.

From 2009 to 2011, Dr. Yates was associate director for program accreditation support with the Accreditation Commission for Education in Nursing Inc. (ACEN, formerly the National League for Nursing Accreditation Commission). ACEN is the accrediting body for Tri-C's nursing program.

Since her time at ACEN, Yates has been a professor in the associate degree nursing program at Lorain County Community College (LCCC), a role she also held from 2003 until 2009. Dr. Yates also taught in LCCC's Practical Nursing program from 1989 to 2003, serving as program director beginning in 1996. She also has more than 10 years of clinical nursing experience.

Dr. Yates holds a doctorate in education from the University of Akron, a master's from Kent State University, a bachelor's degree from the University of Akron and an associate degree from LCCC. She is a registered nurse and a certified clinical nurse specialist. 

Since joining Tri-C, Dr. Yates has focused her attention on utilizing her decades of experience to strengthen the excellent and nationally recognized nursing program.