President Search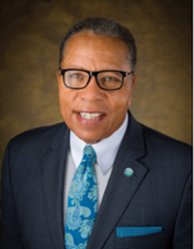 After nearly a decade of leadership, Tri-C President Alex Johnson announced his retirement, effective June 30, 2022. Tri-C students, faculty and staff were informed of Johnson's decision in a virtual town hall on Oct.13.

Johnson took office in July 2013 as the College's fourth full-time president. Under his leadership, Tri-C renewed its commitment to providing educational access throughout Northeast Ohio. He oversaw an era of increasing graduation rates and numbers at the College, the result of new investments in workforce training, capital improvements and programs serving those in low-income and distressed areas.
Read the full retirement announcement here.
Search Committee, Process and Timeline
Trustee Victor Ruiz, executive director of Esperanza, will chair the search committee.
Other trustees on the committee include:
Ann Frangos, retired assistant VP at AT&T
Phoebe Lee, CEO of Affinity Apparel
Andrew Randall, president and CEO of Cleveland Private Trust Company and immediate past Board Chair.
Additional search committee members will be announced soon.
The search will be conducted by a national executive search firm, which will be on board by mid-November.
Interviews will begin in February 2022 with the aim of announcing a new College president next spring. 
Questions
Have a question regarding the search? Please submit it here.