Class Collaborate
Blackboard Collaborate Ultra has been purchased by Class.com, it is now called Class Collaborate.

Integrated into the Blackboard Learn learning management system (LMS) and accessed directly from a Blackboard Learn course site, Class Collaborate is an online meeting solution that can be used to communicate via audio, video, chat, and document/screen sharing. Blackboard Collaborate Ultra allows collaboration virtually on computers and mobile devices in real time. 
Class Collaborate can be accessed from within a Blackboard Learn course site through the "Tool" tab and links to the tool can be added within course content areas. 
The Blackboard Collaborate User Interface Tour video shows you Class Collaborate in action. This is a good video to share with students.

Access Class Collaborate within Blackboard Learn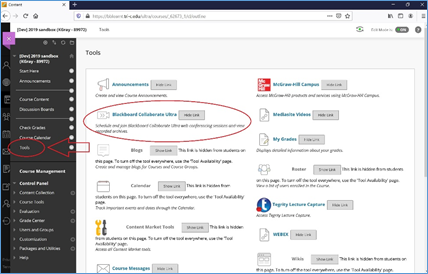 Select "Tools" on the left navigation pane

 

Select the title "Class Collaborate Ultra"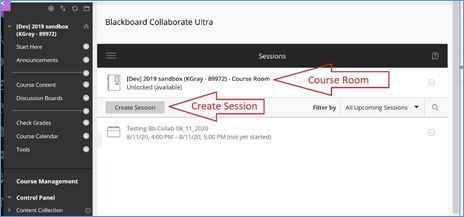 Course Room: Instructors can include in each Course its own Course Room; a synchronous meeting room that can be used for synchronous online meetings and students can access the room with or without the instructor at any time for collaboration and study groups. 
Create Session: Instructors can create a scheduled synchronous online meeting by selecting "Create Session" 
Add Class Collaborate Access to a Content Area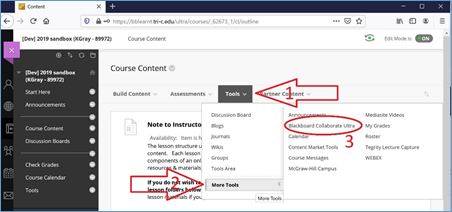 For student ease of access to a synchronous session, an effective practice would be for instructors to add a link to Class Collaborate in each Course Content Lesson. Class Collaborate is a Blackboard Learn tool. For instructors to link to the tool from within a course content area:  
Go to the content area where the link is to be added. 
Select "Tools" 
Select "More Tools" 
Select "Class Collaborate Ultra"
Help Pages for Specific Functions 
Student Class Collaborate Tutorial Videos
Students: Is your instructor using Class Collaborate for synchronous online course times or online office hours? Go to Student Online Learning Tutorials and search using the key word "Collaborate" to see a variety of Blackboard Collaborate Ultra tutorial videos for students.

Faculty: You can link individual Class Collaborate tutorial videos for students in your Blackboard course sites. Go to Student Online Learning Tutorials and search using the key word "Collaborate". Select the URL of the video(s) you would like to share with your students and add the links to your Blackboard course site.

Student Class Collaborate tutorial videos include but are not limited to:
Class Collaborate: The Basics for Students
Class Collaborate: How To Attend a Live Class Meeting
Tips for Participating in a Web Conference
Class Collaborate Known Issues
Browser Options: It is suggested to use Chrome when moderating a Class Collaborate session. Firefox will have less share functionality.
Firewalls: Firewalls, especially on computers owned by schools, may block Class Collaborate.