Comparisons

For Fall 2020 and Spring 2021, Blackboard Learn (LMS) has both Blackboard Collaborate Ultra and Webex integrated within the learning management system (LMS). The fall semester is intended as a time to test them out to determine what would work best for your online synchronous class sessions and office hours. Webex will also remain as a tool outside of the Blackboard Learn environment. 
Please note: If testing the tools within Blackboard Learn with students, it is recommended to only use one tool per course, making the other option unavailable by going to your course and selecting "Customization" > "Tool Availability" and unchecking the tool not being used, don't forget to select "Submit".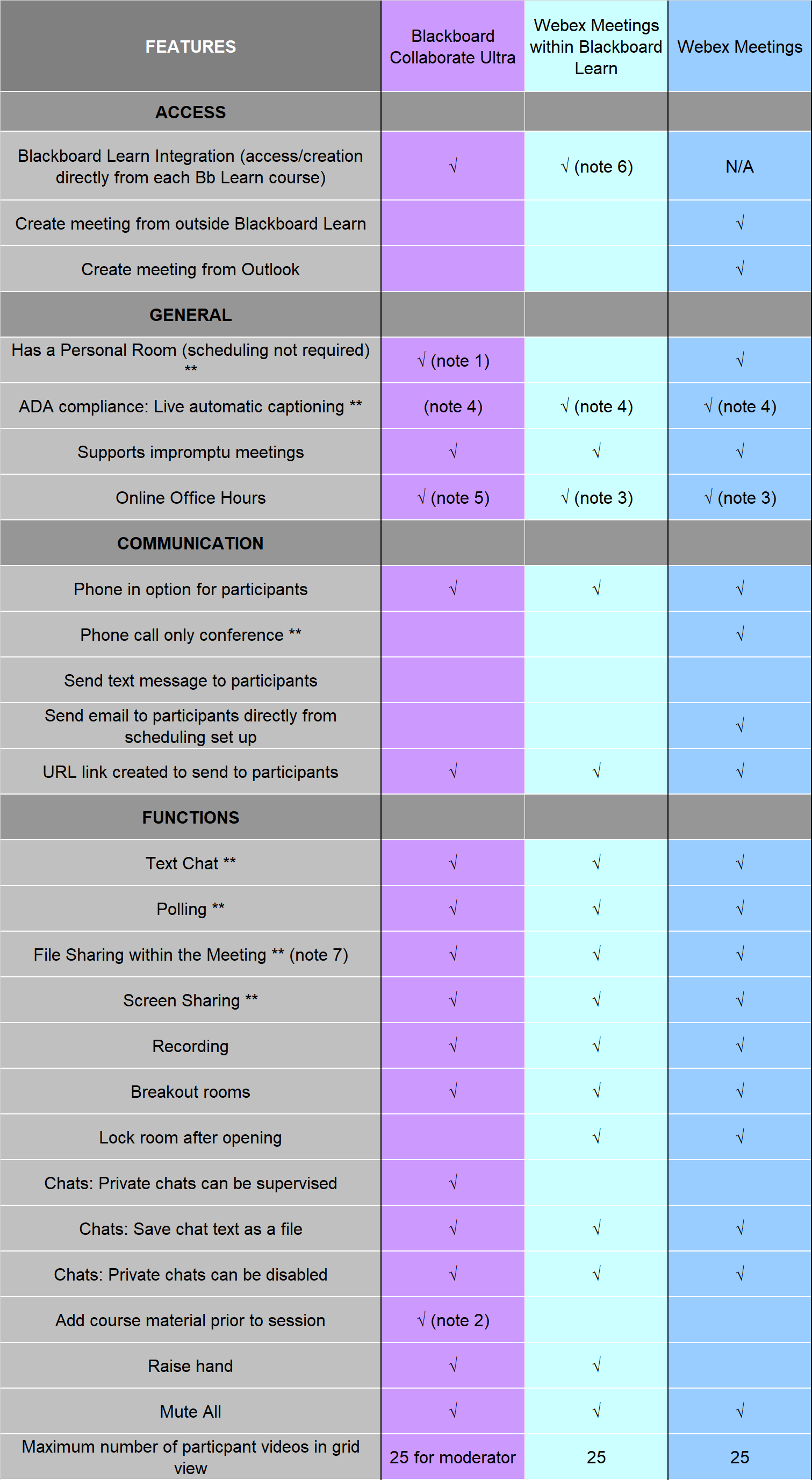 ** Functions noted as a priority through Tri-C faculty survey conducted by the Tri-C Technology Governance Committee. 
Notes: 
Blackboard Collaborate Ultra has a "personal" room per course. Students and instructor can access the Course Room at any time without the requirement of scheduling a meeting. The instructor can lock the room if it is determined that students should not enter without the instructor present. 
Blackboard Collaborate Ultra: Faculty can add the following file types to a course room or a scheduled meeting prior to the start: PDF, image or PowerPoint. 
Webex Meeting Office Hours:

Webex Meeting within Blackboard Learn Office Hours: Faculty set up a schedule for office hours in one course that will then be available in all courses as long as office hours are turned in in each course. When a student selects a time slot, a meeting is generated, and an email sent to the instructor and the student with the meeting link.
Webex Meetings: A Webex Meeting Personal Room can be used for drop-in office hours.

ADA Compliance:

 Webex has both live captioning and automatic transcript options. Automatic transcription of recordings can be turned on, see Webex Frequently Answered Questions for Faculty and Staff. Webex Meetings has live captioning through "Cisco Webex Assistant" for all faculty and staff, email webex@tri-c.edu to have it turned on. 
Blackboard Collaborate Ultra does not have live captioning. Alternative applications can be used.

Blackboard Collaborate Ultra: For drop-in office hours, one option is to use a Course Room from a sandbox site and share the link to the session in all courses.
Webex Meetings in Blackboard allows faculty to schedule meetings from within a Blackboard Learn Course site and for faculty and students to open the meeting from the course. The actual meeting is the same as if the meeting was scheduled from outside of Blackboard.
Files can be shared within a meeting. Neither Blackboard Collaborate Ultra or Webex Meeting have the option to share files for participants to download.
The Comparison chart is subject to change based on updates to the web conferencing tools.