'Tri-C Presents' Announces 2016-2017 Show Schedule
Series of shows puts spotlight on classical piano, jazz and dance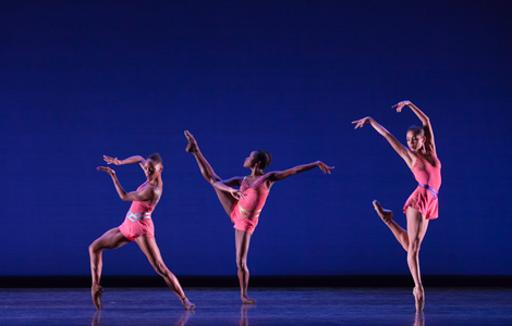 Cuyahoga Community College (Tri-C®) has announced the lineup for its 2016-2017 "Tri-C Presents" season, which brings an exciting collection of performers to Northeast Ohio audiences.
Tri-C Presents will showcase classical piano, jazz and dance acts between September and April on stages across the region. Five of the nine shows are free to make the artistic experience accessible to all.
"Our season is diverse and exciting and Tri-C is proud to bring these acts to venues throughout Northeast Ohio," said Terri Pontremoli, the College's director of performing arts and Tri-C JazzFest.
Tri-C Presents offers shows through two platforms — the Performing Arts Series and the Classical Piano Series, which is celebrating its 10th anniversary.
The lineup is as follows:
Tri-C Presents Performing Arts Series
Vocalist Jose James
7 p.m. Sept. 21 at Nighttown — $25 (To buy tickets: 216-795-0550)
Jose James has always been on a quest for new musical horizons, evolving and blurring the lines between genres and drawing comparisons to Frank Ocean and Marvin Gaye. With his soulful baritone voice, he weaves elements of indie, funk, blues, hip hop and R&B into powerful performances.
Terence Blanchard's A Tale of God's Will (A Requiem for Katrina)
7:30 p.m. Oct. 13 at Finney Chapel in Oberlin — Free
Trumpeter Terence Blanchard and his quintet will perform his Grammy-winning work with the Oberlin Chamber Orchestra, conducted by Raphael Jiménez.
Omara Portuondo 85 Tour
7 p.m. Oct. 23 at Lakewood Civic Auditorium — $35/$25 (To buy tickets: 216-987-4444)
Orquesta Buena Vista Social Club, with 85-year-old diva Omara Portuondo, brings its farewell world tour to Northeast Ohio. The concert will celebrate the sweep of Portuondo's career with special guests such as pianist Roberto Fonseca, clarinetist Anat Cohen and violinist Regina Carter.
Dance Theatre of Harlem
3 p.m. and 7 p.m. Jan. 21 at Ohio Theatre — $45/$40/$35/$25 (To buy tickets: 216-241-6000)
Now in its fourth decade, Dance Theatre of Harlem is a multi-cultural dance company that has brought innovative forms of artistic expression to ballet. This performance will include a new piece choreographed by Cleveland native Dianne McIntyre. The program is in partnership with DANCECleveland.
SFJAZZ Collective
8 p.m. April 21 at Music Box Supper Club — $25 (To buy tickets: 216-242-1250)
The SFJAZZ Collective is an all-star jazz ensemble comprising eight of the finest performers/composers at work today. This year, the ensemble performs compositions by Miles Davis and new pieces by its members.
Tri-C Presents Classical Piano Series
Simone Dinnerstein
2 p.m. Oct. 16 at Gartner Auditorium at the Cleveland Museum of Art — Free
American pianist Simone Dinnerstein is an inventive artist motivated by a desire to find the musical core of every work she approaches. She is a regular presence among the best-selling artists on the Billboard Classical Chart.
Daniela Liebman
2 p.m. Nov. 20 at Gartner Auditorium at the Cleveland Museum of Art — Free
Daniela Liebman, born in 2002, was the youngest soloist in Mexico to appear with a professional orchestra. Since that performance of Mozart's eighth piano concerto at age 8, the young prodigy has gone on to win first prize in several international competitions.
Gavin George
2 p.m. Feb. 12 at Gartner Auditorium at the Cleveland Museum of Art — Free
Acclaimed for his musical maturity and virtuosity, 13-year-old Gavin George began formal piano instruction at age 3½ and made his concerto debut by age 7. He has been a featured performer on the CBS Early Show.
Jon Kimura Parker
2 p.m. April 2 at Gartner Auditorium at the Cleveland Museum of Art — Free
Known for his passionate artistry and engaging stage presence, pianist Jon Kimura Parker has performed as a guest soloist with the Philadelphia Orchestra and Wolfgang Sawallisch in Carnegie Hall and jammed with Audra McDonald, Bobby McFerrin and Doc Severinsen.
For more information on Tri-C Presents, visit www.tri-c.edu/creativearts or call 216-987-4444. 
September 01, 2016
John Horton, 216-987-4281 john.horton@tri-c.edu