Worth the Wait
Thirty years after first enrolling at Tri-C, Pam Osborn graduates with a Medical Billing Specialist credential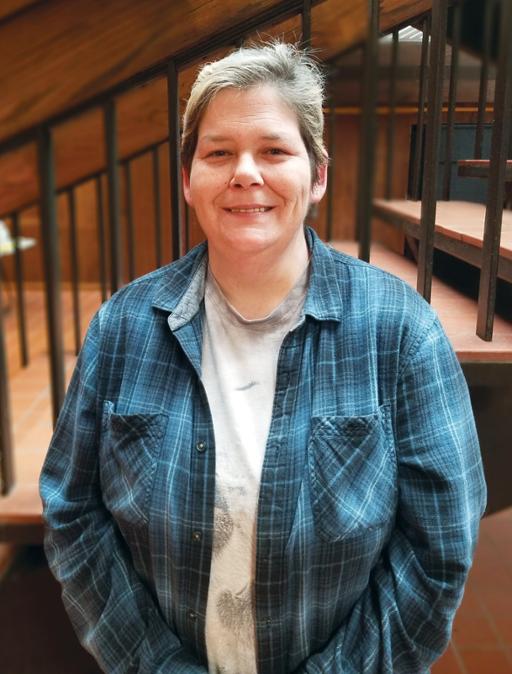 On Tuesday, Dec. 17, Pam Osborn will cross the Wolstein Center stage to receive a Medical Billing Specialist certificate from Cuyahoga Community College (Tri-C®). Though it's just the first step on her academic journey, it's more meaningful than anything else she's ever done.
Because this time, she finished what she started.
Osborn, 49, first enrolled at Tri-C's Western Campus straight out of high school. After a stint in Missouri, she came back to study graphic communications. When that didn't work out, she took a job as a tow motor operator.
"It was good money, good benefits, but I worked 60 to 70 hours a week," she said. "It got harder as I got older. I couldn't keep up with those young guys anymore."
Seeking a career change, Osborn re-enrolled at Tri-C in 2007 to pursue a degree in captioning and court reporting. Unfortunately, a work-related injury forced her to put her aspirations on hold yet again.
Her employment situation, coupled with the stress of caring for her critically ill mother and stepfather, left Osborn with severe anxiety. She sought counseling to help her cope but suffered a devastating loss when her mother passed away on Easter Sunday 2017.
"It was hard because we were really close," Osborn said. "She always wanted me to go back to school again, too, but I just kept making excuses."
On April 16, 2018 — the one-year anniversary of her mother's death — Osborn became a Tri-C student for the fourth time.
Though job and household responsibilities keep her on a part-time schedule, she's wholly committed this time around. Two days a week, she drives an hour each way from her home in Wayne County to Western Campus in Parma.
Osborn plans to build upon the medical billing certificate she completes this month to earn an Associate of Applied Science degree in Health Information Management Technology. After that, she'll pursue post-degree certification as a cancer registrar.
"I'll be 55 by the time I finish, but it'll be worth it," she said.
Though she still struggles with anxiety, Osborn will have a trick up her sleeve — or in her pocket, rather — to keep her calm during Tuesday's ceremony.
"My mom had this little Tweety Bird hanging from the rearview mirror of her truck," she said. "It'll be in my pocket all night long.
"That way, I'll know she's with me."
Cuyahoga Community College will celebrate the academic achievements of nearly 1,800 graduates on Dec. 17 at Fall Commencement. Check our News and Events page in the days leading up to the ceremony as we highlight members of the Class of 2019.
December 13, 2019
Beth Cieslik, 216-987-4538 beth.cieslik@tri-c.edu