Working With Robots: Tri-C Offers Automated Technology Training
FreshWater Cleveland highlights the College's Manufacturing Technology Center of Excellence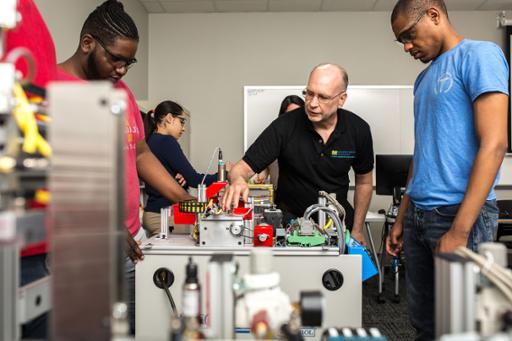 Humans and robots are finding new ways to coexist in the workplace, and Cuyahoga Community College (Tri-C®) is helping to make the introductions.
Tri-C stands out as a leader in training workers for evolving manufacturing jobs that require knowledge in automation technology, according to an Oct. 31 story by FreshWater Cleveland, a weekly e-magazine and website.
Job postings throughout the region show the need for workers with the skills to maintain and operate automated systems and robots, FreshWater reported. The story noted the College's "proactive approach" to meeting those demands.
Programs at Tri-C's Manufacturing Technology Center of Excellence provide ample opportunity for workers to upskill while earning associate degrees and industry certifications in robotics and automation.
"We have seen demand from both existing companies and demand from the industry, as well as emerging industries," said Alicia Booker, Tri-C's vice president of manufacturing. "There's a diversification in the industry, and expansion."
In addition, the College's award-winning Youth Technology Academy ignites the interest of high school students in science and technology careers through robotics training and competitions.
Tri-C also offers a summertime Nuts and Bolts Academy for youth at various grade levels.
"Now it's a matter of teaching kids where the work is starting to go, but also where the work is going to be in the future," Booker said.
To read the full story by FreshWater, click here.
October 31, 2019
John Horton, 216-987-4281 john.horton@tri-c.edu