Working Out a Career Path
Porsche Mercer converted her focus on fitness and wellness into a degree at Tri-C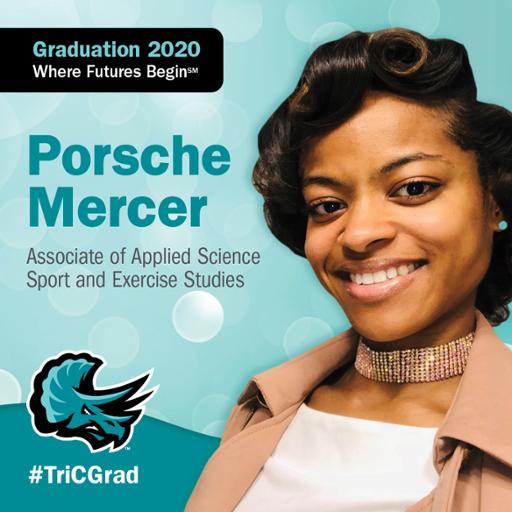 Twelve years ago, Porsche Mercer enrolled at Cuyahoga Community College (Tri-C®). That version of her lacked focus and direction. 
The 2020 version does not. 
The 32-year-old Cleveland resident will graduate from Tri-C this month with an Associate of Applied Science degree in a major — sport and exercise studies — that now powers her career ambitions. 
"I can do this until I'm 100, because I love it," she said. 
Mercer dove into fitness in 2013 because she wanted to become healthier, both physically and mentally. She changed her diet and started working out. She soon saw benefits like lower blood pressure and better body composition. 
She started sharing her story with coworkers and friends. As more people began asking her for advice on living a healthier life, she had an epiphany: Why not make a career out of teaching wellness? 
That realization straightened what had been a winding path at Tri-C. Mercer started at the College in 2008 and left a year later. She returned in 2015 intent on earning a degree in business. 
The switch from business to fitness in 2017 came with a challenge: passing a Principles of Biology course. Mercer felt intimidated by the subject. "I had no experience in science," she said. 
But biology instructor Kaili Boarman provided the encouragement and support to help Mercer succeed. 
"She'd sit with me for hours to make sure I understood the materials," Mercer said. "I didn't just learn information for the tests — I still know it now. If it weren't for her, I wouldn't be here. I wouldn't be graduating." 
Mercer is set to earn a fitness specialist certificate from the College along with her degree. She plans to continue her studies at Hiram College through its partnership program with Tri-C. Her goal is to earn a bachelor's degree in exercise science. 
"Tri-C was a great resource for me," Mercer said, citing tutoring services and professors who cared about her success. "It provided the foundation for my academic journey." 
Mercer's dream job is to work in corporate wellness, where she would provide employees with information about physical fitness, stress management and disease prevention for their overall well-being. 
That's a major shift from a career Mercer once envisioned in banking, where she had a job that offered potential but no feeling of passion. Mercer cashed out her 401(k) to cover her college costs. 
"I didn't want a career where I was looking forward to retirement," she said. "Don't be afraid to take risks, and don't be afraid to follow your dreams. It'll pay off." 
Cuyahoga Community College will celebrate the academic achievements of its newest graduates during a Dec. 17 virtual commencement ceremony. Check our News and Events page leading up to the online event as we highlight members of the Class of 2020.
December 07, 2020
Katie Khoury, 216-987-4808 katie.khoury@tri-c.edu