Working It Out
A scholarship helped power Oktay Adatepe to a degree in sport and exercise studies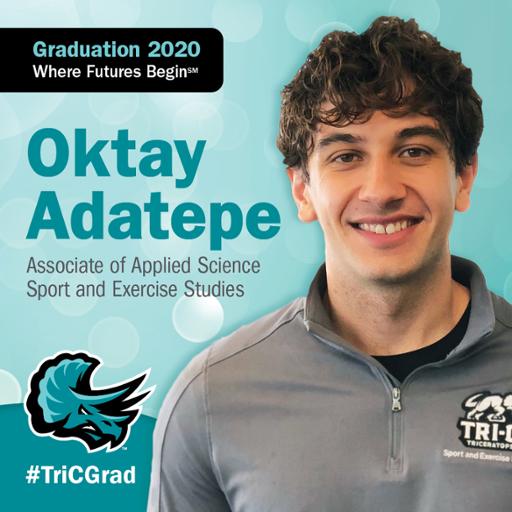 Oktay Adatepe felt overwhelmed. A year into his studies at Cuyahoga Community College (Tri-C®), he watched as his bank account balance inched closer to zero. His path to a degree seemed to be vanishing.
That all changed, however, with the scholarship he earned upon being accepted as a Mandel Scholar at Tri-C's Jack, Joseph and Morton Mandel Humanities Center.
"I could not describe my excitement," he said. "It gave me a chance to finish my dream."
The 22-year-old made the most of the opportunity, too: Adatepe is set to graduate from Tri-C this month with honors and an Associate of Applied Science degree in sport and exercise studies.
He said he looked at more than 50 community colleges across the United States before choosing to come to Tri-C. The College's program stood out to him given its focus on gaining practical experience.
Adatepe immersed himself in classes and training. His studies led to a job working at Tri-C's Eastern Campus fitness center and an internship with the program's sports science laboratory to build skills in exercise physiology and testing.
He also launched a sport and recreation club on campus and served as president of the group.
"These opportunities gave me experience and made me realize why I love this field," said Adatepe, who lives in Woodmere.
He credited his sport and exercise studies instructors — particularly Chris Faciana and Genevieve Luca — with sparking his passion for the field. "They made learning very interesting," he said.
Adatepe also received guidance from Marcia Leftridge, a physical education support specialist at the College. She served as his mentor through Tri-C's Black American Council.
"She guided me through whenever I was in a tight spot — whether it was classes, work or personal," Adatepe said. "She was an amazing mentor who pushed me to have better opportunities."
That includes his work last fall with The Voting Experience project at Tri-C campuses. The student-led initiative was designed to register voters and encourage participation in the political process.
He became involved with the effort after being named a Democracy Fellow with the Fair Election Center's Campus Vote Project.
With his goal of a Tri-C degree accomplished, Adatepe now plans to transfer to Cleveland State University to continue his education. He has set his sights on earning a bachelor's degree in exercise science.
Adatepe will enroll in CSU's Jack, Joseph and Morton Mandel Honors College through the Mandel Continuing Scholars program between Tri-C and the university.
Cuyahoga Community College will celebrate the academic achievements of approximately 2,500 graduates on May 14 during a virtual ceremony. Check our News and Events page in the days leading up to the online event as we highlight members of the Class of 2020.
May 13, 2020
Leanne van Beers-Werneke, 216-987-2201 leanne.van-beers-werneke@tri-c.edu