Work-From-Home Arrangement Is for the Birds
Western Campus President Donna Imhoff takes in doves from Veterinary Technology program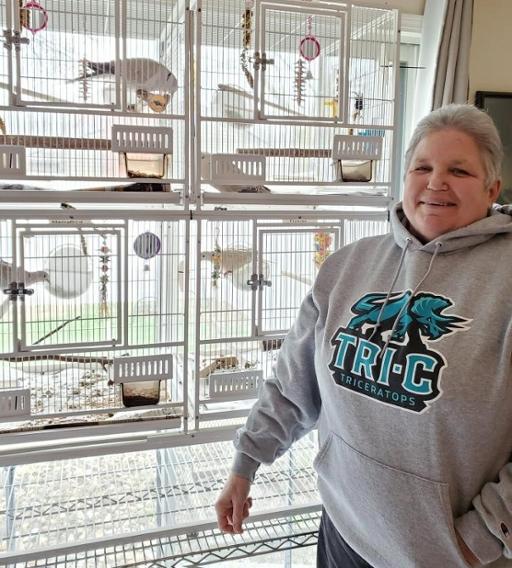 Mr. Giggles lives up to his name.
Count that among the many lessons learned by Donna Imhoff — president of Western Campus at Cuyahoga Community College (Tri-C®) — after bringing her work home during the COVID-19 outbreak.
With the campus off-limits as the College does its part to slow the spread of the virus, Imhoff is bird-sitting four ring-necked doves usually cared for by students in Tri-C's Veterinary Technology program.
Her houseguests include Pickles, Hodor, Momma Bird and Mr. Giggles, whose name seems fitting. "When he starts [cooing], honestly, he does sound like he's laughing at you. I'm starting to take it personally," Imhoff said.
Chatter from the vocal quartet begins around 5:30 every morning, Imhoff told The Plain Dealer's Michael K. McIntyre for a story published in the April 5 edition of the paper. The conversation typically peaks as she conducts College business during video conference calls.
Imhoff could have taken in a quieter guest, but she opted against housing the albino king snake. "I'm not feeding a live anything to anything," she said.
Don't worry about the snake, though — it found a temporary home with Linda Kuenzer, interim director of the Vet Tech program. Cats and dogs involved with the program were adopted out, too.
Imhoff told McIntyre that the birds provide welcome relief from the COVID-19 chaos consuming so much of the world.
"It's a change of pace from all of this. You turn on the news and everything is death tolls and disease tolls and how much longer we're all going to be grounded," she said. "It's been nice having them."
Click here to read McIntyre's full story.
April 06, 2020
John Horton, 216-987-4281 john.horton@tri-c.edu